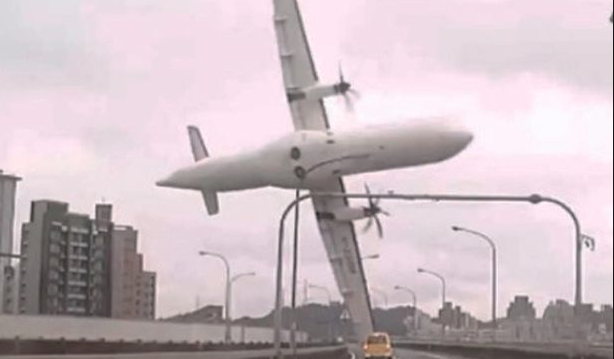 32 Killed in "Engine Flameout" Plane Crash in Taipei
05 Feb, 2015
The pilot of TransAsia Airways Flight 235 called out "mayday, mayday, engine flameout" moments before the propjet plane banked sharply and crashed into a river, Taiwan aviation officials said Thursday
The audio clip of the exchange between the control tower and pilot of the doomed flight was confirmed by Taiwan's Civil Aeronautical Administration as rescue workers continued searching for 11 missing passengers Thursday.
The plane crashed in Taipei shortly after takeoff Wednesday, leaving at least 32 people dead. Fifteen people survived the flight with 58 passengers and crew on board that had been traveling to the island of Kinmen, near mainland China.
After both black box flight recorders were recovered, an initial investigation revealed engine failure as the possible cause, Taiwan's state news agency CNA reported.
"Engine flameout" refers to flames being extinguished in the combustion chamber of the engine, so that it shuts down and no longer drives the propeller. Causes could include a lack of fuel or being struck by volcanic ash, a bird or some other object.
The fast-descending plane was captured on car dashcams banking sharply then clipping an elevated highway before crashing into the Keelung River.
The flight had 31 Chinese tourists on board and investigators from China will join the crash probe, the first such collaboration across the Taiwan Strait, CNA reported.
Beside the river Thursday dozens of weeping relatives called out the names of the dead while Buddhist monks chanted and waved the victims' clothes in front of the wreckage as part of a religious ritual, AFP reported.
The recovery efforts of the plane were hampered by "zero visibility" and cold water temperatures that forced divers to work in one-hour shifts, said diver Cheng Ying-chih. In addition, the plane had broken into numerous pieces.
"We're looking at a very tough search and rescue job," Cheng told reporters gathered on the river bank.
Taiwanese President Ma Ying-jeou visited relatives of the dead at a Taipei funeral house and met survivors in city hospitals.
"This kind of air safety incident not only wrecks countless happy families but also affects trust in our tourism climate among tourists from outside Taiwan," Ma's office said in a statement on the visits, a reference to the 31 mainland Chinese passengers. "We must undergo this bitter experience and make all-out improvements."
Relatives of the Chinese nationals on the flight traveled to Taipei on Thursday from Xiamen, a coastal city close to Kinmen. Three Chinese tourists survived the crash, and the remainder were either confirmed dead or still missing.
Taipei's newly elected mayor, Ko Wen-je, said he was grateful to the plane's captain for his efforts to reduce casualties and damage that could have been far higher had the plane crashed into buildings or major infrastructure.
"We really have to thank that pilot," Ko said. "He really tried his hardest."
Flight attendant Huang Jing-ya, likely the only member of the five-member crew to survive, crawled out of the back of the plane. "I thought I was going to die," she told the United Daily newspaper.
USA Today 
Image Guardian.com
Mentioned In This Post:
About the author