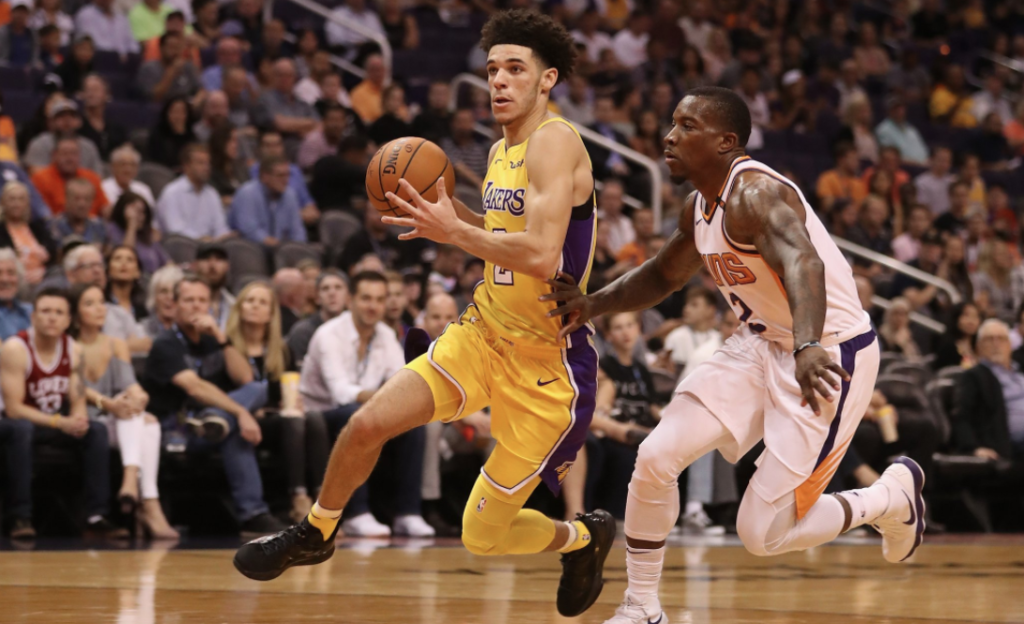 Ball Bounces Back. Damn Near Gets Triple Double
21 Oct, 2017
Luke Walton came to Lonzo Ball's defense saying that his rookie point guard did not play as poorly as some might've believed in the Los Angeles Lakers' opener.
In his second game, Ball backed his coach's words up by falling one assist shy of becoming the youngest player in NBA history to post a triple-double with 29 points, 11 rebounds and 9 assists to help the Lakers outlast the Phoenix Suns 132-130 at the Talking Stick Resort Arena.
"I think Lonzo's getting a bad [rap] for getting destroyed his first game," Walton said before the game. "Personally, I thought he could have had a double-double with rebounds and assists [but] we didn't make any shots. … I thought he was fine last night. It's a good learning experience for everybody."
On Friday night, Ball bounced back by flashing the kind of triple-double versatility that made the Lakers select him second overall in the draft. He displayed the kind of passing that dazzled at the Las Vegas Summer League and knocked down four 3's, including a step-back 3-pointer.
When the Suns made a late charge and got within three with 3 minutes, 19 seconds left, Ball scored six of the next eight points for the Lakers in a minute and a half, making three shots with his left hand. He scored on a driving left-handed scoop shot in traffic, another left-handed drive and score over Tyson Chandler and then a driving left-handed layup. In between those baskets, he pushed the ball up court to Kyle Kuzma, who drove in for a layup.
Ball is the first teenager since LeBron James to have 29 points, 11 rebounds and 9 assists. His 29 points are the most by a Laker in his first or second game of his career since at least 1963. Magic Johnson scored 26 in his debut.
"This happened before," Ball said of him getting off to slow starts and people labeling him after a poor game. "It happened in summer league. It's happened before in my career. So, I am used to it.
"I know everybody is going to say everything game by game, so if I play bad on Sunday, it is going to go right back to he's a bust. It doesn't matter to me, I just come out and play as hard as I can to get my team wins."
On Thursday night in the season opener, Ball missed five of six shots and finished with 3 points, 9 rebounds and 4 assists in a 108-92 loss to the Clippers. Patrick Beverley hounded the rookie, at one point giving him a body check and sending Ball to the floor at half court.
Ball looked a lot more comfortable, confident and assertive against the defenseless Suns. After making one 3-pointer in the second half, the normally reserved Ball swayed his head back and forth to show how confident he was feeling. Phoenix, which surrendered 124 points in a 48-point loss in its opener to Portland, offered little resistance to the Lakers.
"Just be more aggressive," Ball said of what changed from the opener to his second game. "The last game I shot six shots, that didn't work out too well. Maybe I will try something else."
ESPN
Image SlamOnline Twitter
Mentioned In This Post:
About the author