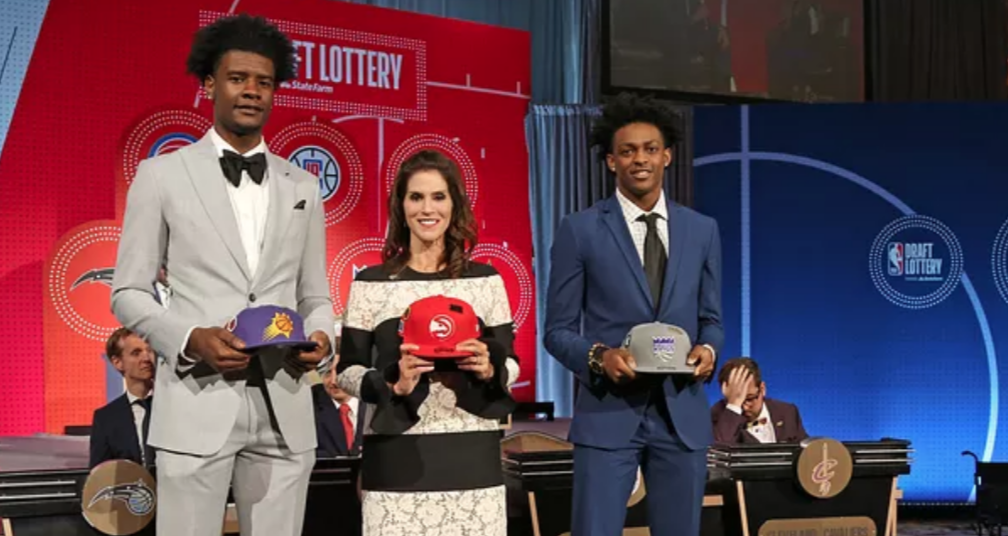 Atlanta Hawks Owner Is Biggest Surprise of the NBA Lottery
15 May, 2018
There were a couple of surprises at the 2018 NBA Draft Lottery when it came to the actual draft order, but none of those created the social media shockwave that Jami Gertz did when she was shown as the Atlanta Hawks representative.
Unless you've spent the last couple weeks repeatedly watching The Lost Boys or Twister, you probably haven't heard much about Gertz prior to Tuesday. It turns out that her husband, Anthony Ressler, is the principal owner of the Hawks.
Ressler told Chris Viviamore of The Atlanta Journal-Constitution on Monday that he wanted to have Gertz represent the Hawks because, "She's been responsible for all my luck for the past 30 years."
The Phoenix Suns had the best odds to win the No. 1 overall pick in the 2018 NBA Draft, and that's just what happened as Josh Jackson apparently brought them some good luck. The Sacramento Kings jumped into the top three to get the No. 2 overall pick, while the Atlanta Hawks walked away with pick No. 3.
Rounding out the top five, the Memphis Grizzlies — who missed the playoffs for the first time since 2010 — will have the No. 4 pick, and the Dallas Mavericks will pick fifth overall.
In an other important note, the 76ers kept the Lakers pick, as it fell to No. 10 overall. If it had been between No. 2 and No. 5, it would have gone to the Celtics by way of the Jayston Tatum-Markelle Fultz trade last summer.
This is another deep draft filled with multiple potential franchise-changing prospects. Marvin Bagley III, DeAndre Ayton and Luka Doncic are all potential first overall picks, with Ayton looking like the favorite in that regard. He is currently the top pick in Gary Parrish's latest mock draft. Jaren Jackson and Mohamed Bamba are also seen as top prospects.
Sporting News
Image NBA Draft Screenshot
Mentioned In This Post:
About the author