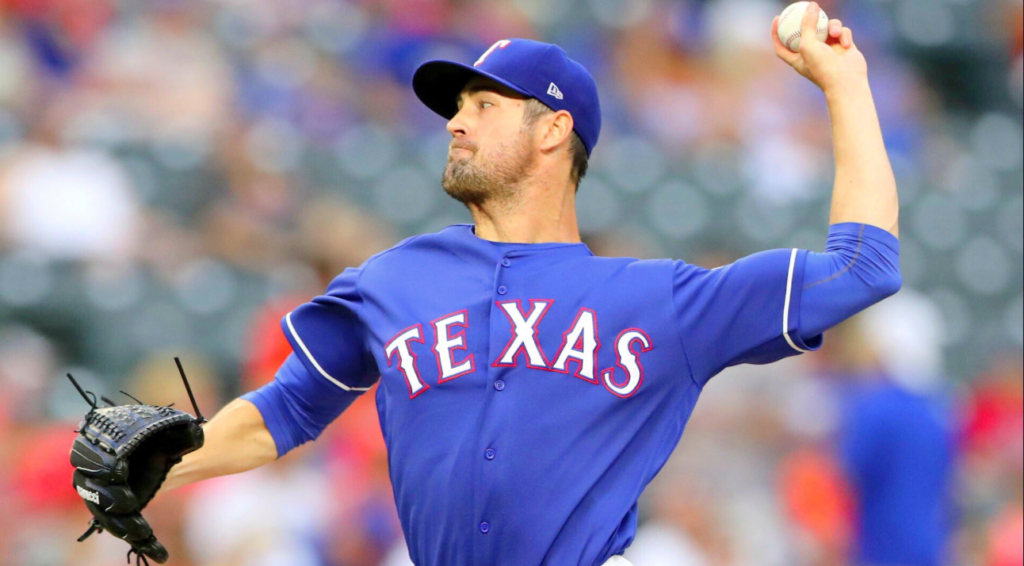 Can Cubs Resurrect Former Ace's Career?
27 Jul, 2018
The Cubs are on the verge of adding another starter, acquiring Cole Hamels from the Rangers to bolster the rotation.
According to MLB.com's Jon Paul Morosi, the Cubs have an agreement in place for the 34-year-old left-hander, pending exchange of medical information. Evan Grant of the Dallas Morning News was the first to report the deal.
According to Jeff Passan of Yahoo! Sports, the Rangers will receive Class A Advanced Myrtle Beach right-hander Rollie Lacy, who was scratched from his start on Thursday, and a player to be named.
Asked about Hamels after Thursday's game, Cubs manager Joe Maddon joked that his teams have had trouble with the left-hander in the past. Maddon would know. Hamels was the World Series MVP in 2008 against Maddon's Rays in the Phillies' five-game Fall Classic triumph.
"He'd be pretty good," Maddon said. "I've not liked him for a long time. He's pitched some really big games against teams that I've been involved with and has done really well. He's a great competitor. He's got good stuff, but he competes and he knows what he's doing out there. I'd have to rank him as a pretty competent Major League left-handed pitcher."
Hamels apparently does like pitching at Wrigley Field, throwing a no-hitter there on July 25, 2015, in his final start for the Phillies before he was traded to the Rangers. It was the first time the Cubs were no-hit since the Dodgers' Sandy Koufax did so on Sept. 9, 1965, a stretch of 7,920 games. Hamels is 3-1 with a 1.76 ERA in six career starts at Wrigley Field.
This season, Hamels is 5-9 with a 4.72 ERA in 20 starts. Hamels was 1-7 with a 6.41 ERA in 10 starts at Globe Life Park in Arlington, serving up 16 home runs, but has fared much better on the road, posting a 4-2 record and 2.93 ERA in 10 starts.
"All through his career he has been on winning teams," Rangers shortstop Elvis Andrus said. "When something happens, it's tough to adjust. It's not like he needs a lot of things to fix. He needs to be in competition and competing. He's going to a good team. He'll be fine. As soon as he walks out there, he'll be a different animal."
Hamels is making $23.5 million this season and the Rangers hold a $20 million option for next year with a $6 million buyout.
"He threw the no-hitter here, but when I was with the Rays, he was a pain in the butt, when he was with the Phillies and with the Rangers," Maddon said. "It always seemed to not work out well [for us]."
This spring, Maddon talked about how they had the best rotation since he arrived in Chicago in 2015. However, the starters, with the exception of All-Star Jon Lester, haven't lived up to the hype as Yu Darvish has been limited because of injuries and Tyler Chatwood, Kyle Hendricks and Jose Quintana haven't been consistent.
Darvish, who has made eight starts, is going to throw off the mound on Friday for just the second time since June 29 and there's no timetable for his return.
Chatwood, who signed a three-year contract last December, has been a puzzlement. He continued to struggle with his command, and now leads the Majors with 85 walks over 94 innings. Asked before the game if the Cubs have enough talent on the current roster if they don't make a move, Maddon brought up the right-hander's name.
"We would have to have Chatwood pitching as well as he possibly can," Maddon said. "Darvish in the wings is the really intriguing part. I don't know when that will occur, but that's about as good of an acquisition as we can get right now."
Anthony Rizzo, who hit a walk-off home run in Thursday's 7-6 win over the D-backs, backed the current Cubs rotation.
"I think the best is yet to come for our starting rotation," Rizzo said. "I like our guys and I like our chances every single time a guy goes out."
MLB
Image T

ommySledge twitter
Mentioned In This Post:
About the author