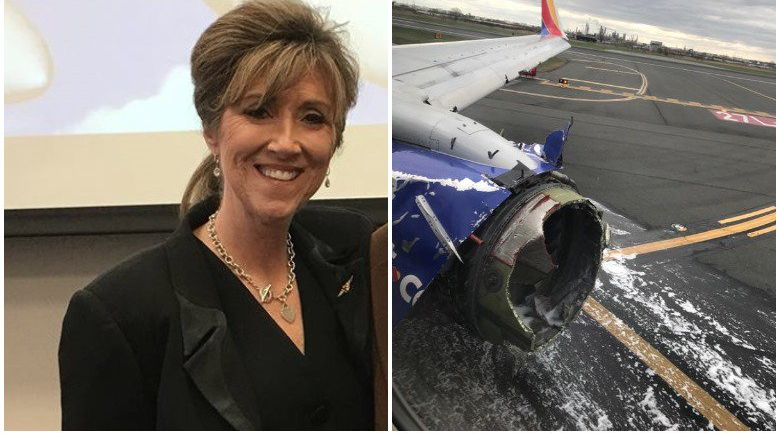 Courage under Fire
18 Apr, 2018
As one of the first female fighter pilots in the U.S. military, Tammie Jo Shults, is no stranger to displaying 'nerves of steel."
Cool, calm and deliberate, Shults brought her twin-engine Boeing 737 in for an emergency landing after the Southwest jet apparently blew an engine on a flight Tuesday from New York's LaGuardia airport to Dallas.
Then she walked the aisles to check on each passenger personally, according to WPVI-TV.
"The pilot Tammy Jo was so amazing! She landed us safely in Philly," said Amanda Bourman, a passenger, on Instagram.
Another passenger, Diana McBride Self, writing on Facebook, called Shults a "true American Hero."
In the harrowing ordeal at 32,000 feet, one woman, Jennifer Riordan, of Albuquerque, died after being partially sucked out of a shattered window. Seven others among the 144 passengers were injured.
Passengers who had prayed, held hands and sucked on oxygen masks as the plane made a sharp descent, praised Shults for her calm demeanor.
"She has nerves of steel," said passenger Alfred Tumlinson, of Corpus Christi, Texas. "That lady, I applaud her. I'm going to send her a Christmas card — I'm going to tell you that — with a gift certificate for getting me on the ground. She was awesome."
"The lady, the crew, everything, everybody was immaculate," he said. "They were so professional in what they did to get us on the ground."
That coolness was particularly notable in air traffic control recordings in which a female pilot is heard slowly and calmly reporting the in-air emergency, noting that they have "part of the aircraft missing."
The National Transportation Safety board said a preliminary investigations indicates an engine blade broke off because of "metal fatigue."
Shults: "Could you have the medical meet us there on the runway as well? We've got injured passengers."
Air traffic control: "Injured passengers, OK. And is your airplane physically on fire?"
Shults: "No, it's not on fire. But part of it is missing. They said there's a hole and that someone went out."
Air traffic control: "Um, I'm sorry. You said there was a hole and somebody went out? Southwest 1380 it doesn't matter we will work it out there."
All the while, Shults and the crew were bringing the plane on a steep descent to an emergency landing in Philadelphia.
Her mother-in-law, Virginia Shults, told The Washington Postthat as soon as she heard the pilot's voice on the radio transmission online, she said "that is Tammie Jo."
"It was just as if she and I were sitting here talking," Virginia Shults said. "She's a very calming person."
The New Mexico native is a 1983 graduate of MidAmerica Nazarene, in Olathe, Kan., where she earned degrees in biology and agribusiness, Carol Best, a university spokeswoman told The Kansas City Star.
She is married to a fellow Southwest pilot, Dean Shults, whom she met in the Navy. Shults' brother-in-law, Gary Shults, said her husband confirmed Tammie Jo made the emergency landing.
"She's a formidable woman, as sharp as a tack," Gary Shults told the Associated Press. "My brother says she's the best pilot he knows. She's a very caring, giving person who takes care of lots of people."
According to Reuters, she is quoted on the fighter plane blog F-16.net as saying she tried to attend an aviation career day at high school but was told they did not accept girls. After college, she was turned down by the Air Force but accepted by the U.S. Navy for its aviation officer candidate school.
USA Today
Image tomwcleary twitter
Mentioned In This Post:
About the author