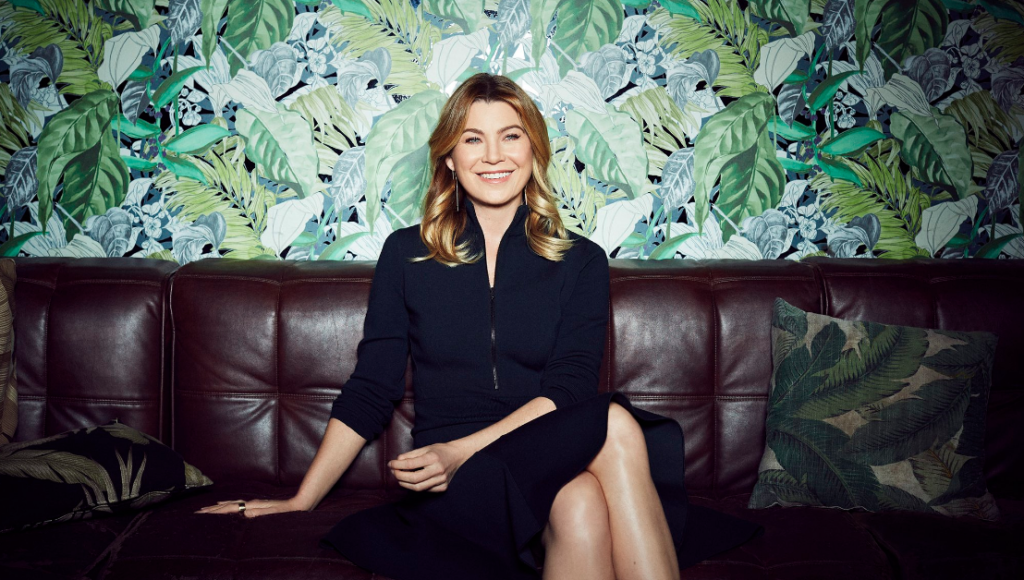 Ellen Pompeo Got $20M Because She Knows Her Worth
18 Jan, 2018
The 'Grey's Anatomy' star recalls in her own words the personal struggles and advice from Shonda Rhimes that led to a milestone: highest-paid actress on a primetime drama.
On March 27, 2005, ABC debuted a medical drama titled Grey's Anatomy from a then unknown creator, Shonda Rhimes. The show was an instant smash, and everybody involved was ecstatic.
Everybody, that is, except for the series' star, Ellen Pompeo, the Grey of Grey's Anatomy. "I knew I was fucked," she recalls thinking at the time. After all, Pompeo was supposed to be a movie star.
Following a rocky childhood in a blue-collar, mob-heavy Boston suburb, where she and several siblings were raised by her father and grandparents (her mother died of an overdose when Pompeo was just 5), she found her way to Hollywood. Before long, her breakout role as the love interest in the 2002 film Moonlight Mile had sparked interest from major filmmakers. "Sam Mendes, Steven Spielberg, Warren Beatty," she rattles off the names. "They were all, 'We were blown away by this performance' and 'You're a superstar.'"
But by 2004, her movie career had stalled and she was perilously close to broke. Then her agent, CAA's Rick Kurtzman, brought her the script for Grey's Anatomy. "I was like, 'I'm not going to be stuck on a medical show for five years,' " she remembers telling him. " 'Are you out of your fuckin' mind? I'm an actress.'" He convinced her to audition anyway, if only to pay the rent.
Fourteen years later, Pompeo is no longer a renter. In late 2017, she signed a new deal that will make her dramatic television's highest-earning actress. The expansive pact covers Grey's' current season and a 15th and 16th season after that (though the latter two have not been formally ordered, Rhimes says, "The show will go on as long as Ellen wants to do it.") Pompeo credits her boss and mentor — who recently signed a nine-figure deal of her own at Netflix — with empowering her to overcome any doubts she may have about her own worth and to demand the best possible deal.
"As a woman, what I know is you can't approach anything from a point of view of 'I don't deserve' or 'I'm not going to ask for because I don't want other people to get upset,' " Rhimes says now. "And I know for a fact that when men go into these negotiations, they go in hard and ask for the world."
Pompeo had plenty of leverage. Grey's has been drawing nearly 12 million viewers 300-plus episodes in, making it ABC's No. 2 drama, behind only fall 2017 entry The Good Doctor. And the show, which airs in some 220 territories around the world, is a multibillion-dollar franchise for ABC parent Disney. Rhimes recalls giving her star a simple piece of advice: "Decide what you think you're worth and then ask for what you think you're worth. Nobody's just going to give it to you."
The result: Pompeo's new pact will have her earning more than $20 million a year — $575,000 per episode, along with a seven-figure signing bonus and two full backend equity points on the series, estimated to bring in another $6 million to $7 million. She also will get a producing fee plus backend on this spring's Grey's spinoff as well as put pilot commitments and office space for her Calamity Jane production company on Disney's Burbank lot. Already, she has a legal drama in contention at ABC, and she recently sold an anthology drama to Amazon, which will focus each season on a different American fashion designer's rise to prominence.
Actors typically hate discussing their paychecks in the press, but Pompeo, a married mother of three, has chosen to do so with The Hollywood Reporter now in the hope of setting an example for others as women in Hollywood seize a new moment of empowerment and opportunity. An edited version of the conversation follows.
I'm 48 now, so I've finally gotten to the place where I'm OK asking for what I deserve, which is something that comes only with age. Because I'm not the most "relevant" actress out there. I know that's the industry perception because I've been this character for 14 years. But the truth is, anybody can be good on a show season one and two. Can you be good 14 years later? Now, that's a fuckin' skill.
I'm not necessarily perceived as successful, either, but a 24-year-old actress with a few big movies is, even though she's probably being paid shit — certainly less than her male co-star and probably with no backend. And they're going to pimp her out until she's 33 or 34 and then she's out like yesterday's trash, and then what does she have to take care of herself? These poor girls have no real money, and the studio is making a fortune and parading them like ponies on a red carpet. I mean, Faye Dunaway is driving a fuckin' Prius today. Now, there's nothing wrong with a Prius, but my point is, she had no financial power. If we're going to invoke change, that has to be part of it.
For me, Patrick [Dempsey] leaving the show [in 2015] was a defining moment, deal-wise. They could always use him as leverage against me — "We don't need you; we have Patrick" — which they did for years. I don't know if they also did that to him, because he and I never discussed our deals. There were many times where I reached out about joining together to negotiate, but he was never interested in that. At one point, I asked for $5,000 more than him just on principle, because the show is Grey's Anatomy and I'm Meredith Grey. They wouldn't give it to me. And I could have walked away, so why didn't I? It's my show; I'm the number one. I'm sure I felt what a lot of these other actresses feel: Why should I walk away from a great part because of a guy? You feel conflicted but then you figure, "I'm not going to let a guy drive me out of my own house."
So, what does it look like when he leaves the show? First, it looks like a ratings spike, and I had a nice chuckle about that. But the truth is, the ink wasn't even dry on his exit papers before they rushed in a new guy. I was on vacation in Sicily, decompressing — it was a long working relationship and it was a tumultuous end and I needed a moment to just chill with some rosé — and they're calling me, going, "What do you think of this guy?" "What do you think of this guy?" And they're sending pictures. I was like, "Are you people fucking nuts? Why do you feel that you have to replace this person?" I couldn't believe how fast the studio and the network felt like they had to get a penis in there. We brought in Martin Henderson, but they didn't love the storyline, so that ended.
Things have changed, though. In Shonda finding her power and becoming more comfortable with her power, she has empowered me. And that took her a while to get to, too. It was part of her evolution. It's also why our relationship is so special. I was always loyal to her, and she responds well to loyalty. So, she got to a place where she was so empowered that she was generous with her power. Now, what did that look like? It looked like her letting me be the highest-paid woman on television, letting me be a producer on this show, letting me be a co-executive producer on the spinoff and signing off on the deal that the studio gave me, which is unprecedented.
Let me back up. What happened is that I went to Shonda and I said, "If you're moving on to Netflix and you want the show to go down, I'm cool with that. But if you want it to continue, I need to be incentivized. I need to feel empowered and to feel ownership of this show." And she was like, "I absolutely want to keep the show going. It's the mothership, so let's find a way to make you happy. What do you want?"
THR.com
Image THR twitter
Mentioned In This Post:
About the author