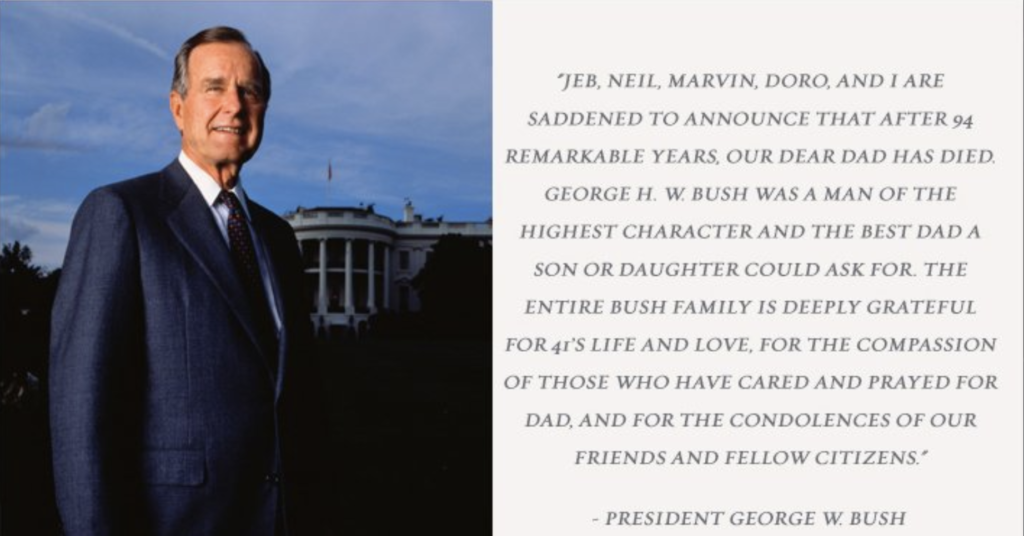 Farewell President Bush
30 Nov, 2018
George H.W. Bush played many prominent public roles in nearly a century of life, from when he was a 20-year-old World War II hero to the 41st president of the United States. In between came turns as a congressman, the director of the CIA, an ambassador to the United Nations and China, and a two-term vice president.
Yet colleagues and friends say the great-grandfather was humble, modest and unfailingly polite.
Bush, who died late Friday at his Houston home at age 94, would see his popularity as president soar after he assembled a U.S.-led military coalition that liberated the oil-rich nation of Kuwait from its invading neighbor Iraq in 1991 during the Gulf War. But just a year later, a deepening economic crisis at home would drive him from office when he lost his bid for re-election.
Still, the Republican would reinvent himself yet again by becoming an elder statesman admired by members of both major political parties. Bush, who died just eight months after the death of his wife of seven decades, Barbara, also saw his son George W. Bush twice elected as the nation's 43rd president.
"George H. W. Bush was a man of the highest character and the best dad a son or daughter could ask for," the younger Bush said in a statement Friday. "The entire Bush family is deeply grateful for 41's life and love, for the compassion of those who have cared and prayed for Dad, and for the condolences of our friends and fellow citizens."
Air Force One was being sent to Texas to transport Bush's casket to Washington, where his body will lay in state at the Capitol Rotunda after an arrival ceremony Monday. The public is invited and can pay their respects from Monday evening through Wednesday morning. The family is still arranging funeral services, but the White House said President Donald Trump and first lady Melania Trump plan to attend.
The son of a senator, Bush was the man with golden resume who rose through the political ranks, which also included becoming the Republican Party chairman before serving as vice president under the hugely popular Ronald Reagan.
But he acknowledged he had trouble articulating "the vision thing" during his time in office. He was also haunted by his decision to break a stern, solemn vow he made to voters when he accepted the Republican Party's nomination for president in 1988: "Read my lips. No new taxes."
He lost his bid for re-election to then-Arkansas Gov. Bill Clinton during a campaign in which businessman H. Ross Perot took almost 19 percent of the vote as an independent candidate. But with the election of son George W. Bush to the White House, they became only the second father-and-son chief executives , following John Adams and John Quincy Adams.
AP
Image TheBushCenter twitter
Mentioned In This Post:
About the author