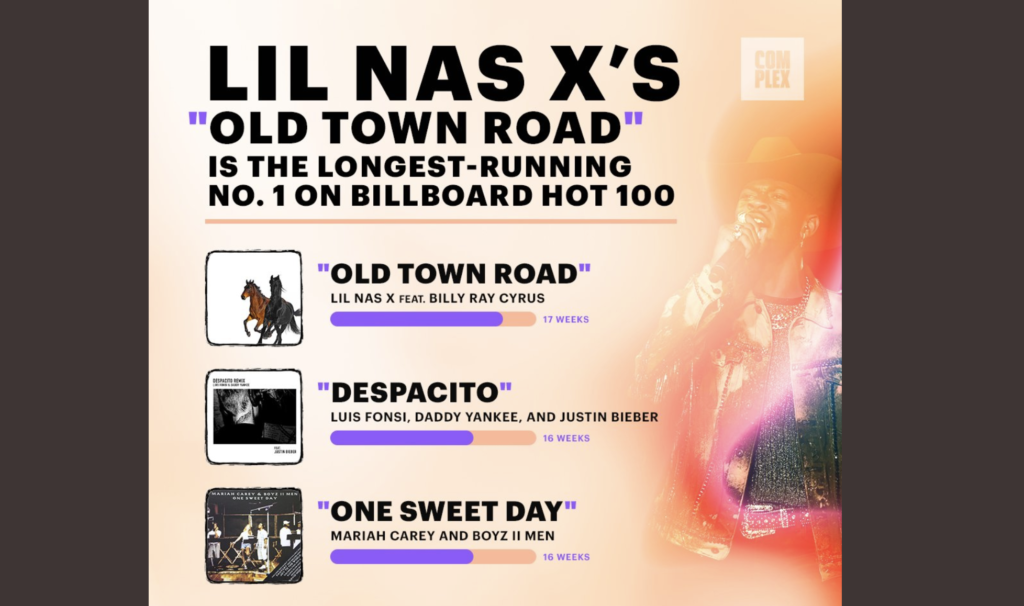 From The 'Old Town Road' to New Billboard Records
29 Jul, 2019
Lil Nas X's "Old Town Road," featuring Billy Ray Cyrus, claims one of the most prized records in the Billboard Hot 100's 60-year history as it spends an unprecedented 17th week at No. 1.
"Road" bests the previous record of 16 weeks first achieved by Mariah Carey and Boyz II Men's "One Sweet Day," in 1995-96, and later matched by Luis Fonsi and Daddy Yankee's "Despacito," featuring Justin Bieber in 2017.
Let's run down the top 10 of this history-making week on Hot 100 (dated Aug. 3), which blends all-genre U.S. streaming, radio airplay and digital sales data. All charts will update on Billboard.com tomorrow (July 30).
With a 17th week atop the Hot 100 for "Old Town Road," here's an updated leaderboard of the 10 longest-leading No. 1s in the chart's archives:
Weeks at No. 1, Title, Artist, Date Reached No. 1
17, "Old Town Road," Lil Nas X feat. Billy Ray Cyrus, April 13, 2019
16, "Despacito," Luis Fonsi & Daddy Yankee feat. Justin Bieber, May 27, 2017
16, "One Sweet Day," Mariah Carey & Boyz II Men, Dec. 2, 1995
14, "Uptown Funk!," Mark Ronson feat. Bruno Mars, Jan. 17, 2015
14, "I Gotta Feeling," The Black Eyed Peas, July 11, 2009
14, "We Belong Together," Mariah Carey, June 4, 2005
14, "Candle in the Wind 1997″/"Something About the Way You Look Tonight," Elton John, Oct. 11, 1997
14, "Macarena (Bayside Boys Mix)," Los Del Rio, Aug. 3, 1996
14, "I'll Make Love to You," Boyz II Men, Aug. 27, 1994
14, "I Will Always Love You," Whitney Houston, Nov. 28, 1992
"Road" takes its place in Hot 100 history alongside notable record-setters. Among the most distinguished achievements, The Beatles boast the most No. 1s (20), Carey has spent the most time at No. 1 (79 weeks) while, upon the chart's 60th anniversary last August, Chubby Checker's classic "The Twist" claimed the top spot on the Hot 100's Greatest of All Time retrospective chart.
As on the Hot 100, "Road" (on Columbia Records) leads the Streaming Songs chart for a 17th week, another record-breaking mark, topping the 16-week run of "Despacito." "Road" rules Streaming Songs with 72.5 million U.S. streams, down 16%, in the week ending July 25, according to Nielsen Music. "Road" set the record for the top streaming week (143 million) following the April 5 arrival of its remix solely with Cyrus (who has been billed on 16 of the song's 17 weeks atop the Hot 100) and claims nine of the 11 biggest streaming frames to date, including the top three.
Billboard
Image Complex Music twitter
Mentioned In This Post:
About the author