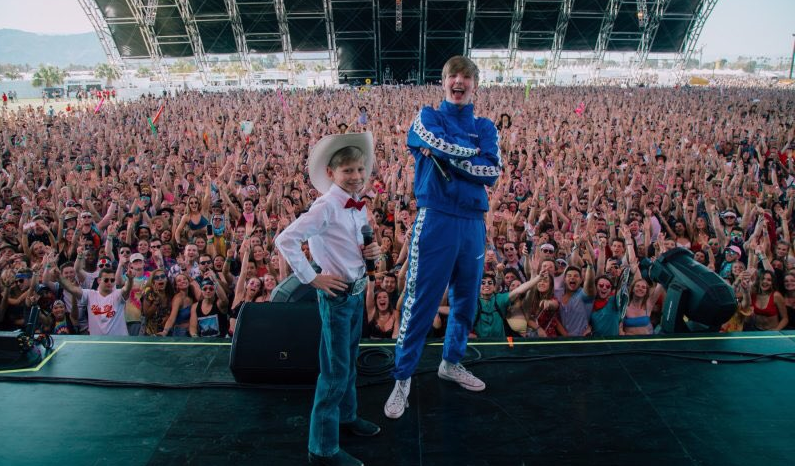 From Yodeling at Wal-Mart To Coachella, 'Merica!
13 Apr, 2018
The must-see act of Coachella 2018's first weekend: The Walmart yodeling kid, Mason Ramsey.
After Ramsey became a YouTube sensation with his plaintive yodeling in the aisles of an Harrisburg, Illinois Walmart, the 11-year-old graduated to the Coachella stage alongside DJ  Whethan on Friday afternoon.
The place went nuts after Whethan said his next guest needed "no introduction." And with a wave of cell phones being whipped into the air,  Ramsey walked onto the stage.
Whethan, 18, invited Ramsey to join him at the trendy desert festival after pointing out the similarity between the two in a tweet April 3, "Stop saying I look like the walmart yodel kid."
Ramsey announced on Instagram that he was joining Whethan at Coachella.
"Can't wait to see California again! Hope y'all are ready cause we're bringing the country to @coachella ? Will be on at 2:45 in the Sahara Tent with Whethan."
 Ramsey took the stage Friday showing off an oversized cowboy hat, an even bigger belt buckle and that voice.
Ramsey appeared on The Ellen DeGeneres Show Tuesday and performed the song that made him famous: Hank Williams' Lovesick Blues.
When DeGeneres asked why he chose to perform in his Walmart, his quick response drew laughter: "Because that's the only store we've got," he said of his hometown,  population 700.
The talk show host then surprised Ramsey with the announcement that he will perform at Nashville's Grand Ole Opry on Saturday.
"Oh my," the boy exclaimed, wiping tears from his eyes.
USA Today
Image E07 twitter
Mentioned In This Post:
About the author