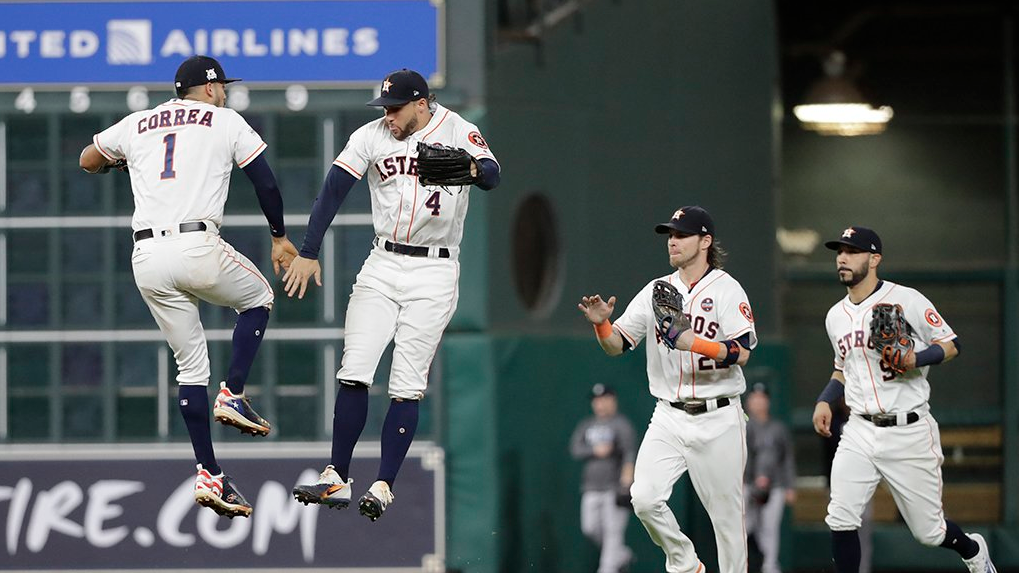 #HoustonStrong
21 Oct, 2017
Another dominant performance by Justin Verlander saved the Astros' season for at least one more day and forced a Game 7 against the Yankees in the American League Championship Series.
Verlander threw seven scoreless innings for the Astros, who got clutch hits from Brian McCann and Jose Altuve in the fifth and a spectacular catch at the wall in the seventh by George Springer to beat the Yankees, 7-1, on Friday night in Game 6 at Minute Maid Park.
"For us to get to Game 7, I'm glad we played well enough to have home-field advantage," Astros manager A.J. Hinch said. "It's going to be here in Houston."
The Astros, looking to advance to their second World Series, will meet the Yankees, who are aiming for their 41st AL pennant, on Saturday in a win-or-go-home game. Since the LCS expanded to seven games in 1985, home teams are 18-7 in Game 7s. The home team has won the first six games of this ALCS presented by Camping World.
It will be only the second Game 7 in Astros history, joining a 5-2 loss to St. Louis in the 2004 National League Championship Series.
"I'm not going to lie to you, it's a lot of emotion in that clubhouse," Altuve said. "It was a crazy game. But personally, I really like the way we play in these kind of games, with everybody up. I believe in my team. [Saturday] is going to be a good night."
Verlander, who threw a 124-pitch complete game to beat the Yanks in Game 2 last Saturday, held New York to five hits and struck out eight. He's 9-0 (8-0 as a starter) since Houston acquired him in an Aug. 31 trade with Detroit, and has thrown 24 consecutive scoreless innings in elimination games.
"He's been everything that we could have hoped for and more," Hinch said. "This guy prepares. He rises to the moment. He's incredibly focused, locked in during games and emptied his tank tonight. I'm so proud of him, because I know how much it means to him. … I hope we get to see him pitch again."
Brad Peacock relieved Verlander to start the eighth and gave up a towering one-out homer to Aaron Judge to cut the lead to 3-1, but Altuve led off the eighth with a shot into the first row of the Crawford Boxes and Alex Bregman added a two-run double to make it 6-1. The Astros had put three days of offensive frustrations behind them.
"Today we got together and we felt like we were not sticking with our approach, especially when we went to New York," Houston shortstop Carlos Correa said. "We were swinging at a lot of bad pitches, and we just tried to be more selectively aggressive today and stay in the zone, and I think that worked out really well for us."
Yankees starter Luis Severino was dominant through four innings, holding the Astros to one hit and one walk before they rallied with patient at-bats in the fifth.
In the fifth, Severino walked two of the first three batters before McCann ripped a ground-rule double to right to score Bregman for a 1-0 lead. Severino walked Springer to load the bases, and one out later, Altuve blistered the first pitch he saw into the left-field corner to score Evan Gattis and McCann for a 3-0 Houston lead. Severino was done after 4 2/3 innings.
"It's disappointing, because they gave me the ball," Severino said. "I wanted to do the best possible I could, but I didn't do it. I lost my command in that last inning and I didn't do the job. After the first batter, leadoff walk, everything happened so fast. I didn't know what happened."
The Yanks had a pair of runners on in the sixth against Verlander, who fell behind Gary Sanchez in the count, 3-0. But Sanchez bailed him out when he tried to check his swing and hit a slow roller to shortstop, where Correa threw him out to end the threat.
"I was just looking to make good contact there up the middle," Sanchez said through an interpreter. "I just wanted to put a good swing on that pitch, but he surprised me with that slider or curveball."
The Yankees rallied again in the seventh when Verlander walked Greg Bird and hit Starlin Castro with a pitch to put runners at first and second with no outs, but Verlander struck out Aaron Hicks to cap a 10-pitch at-bat and got a big lift when Springer jumped to catch a 403-foot fly ball off the bat of Todd Frazier at the wall. Chase Headley grounded out to end the seventh.
"I think you have to keep tonight's game in perspective," Yanks manager Joe Girardi said. "We still have a shot to do what we want to try to do [Saturday]."
MLB
Image MLB twitter
Mentioned In This Post:
About the author