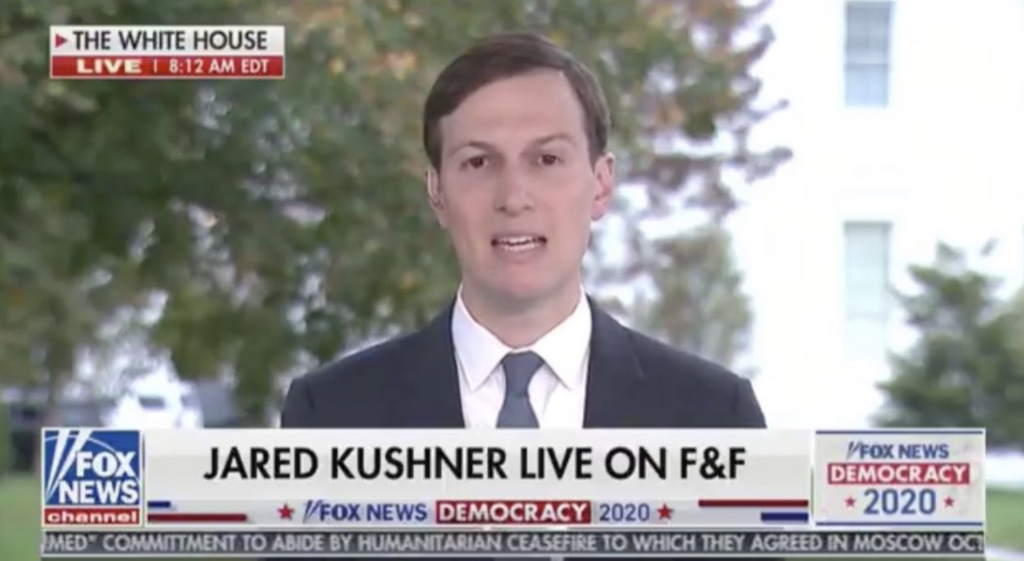 WATCH: Jared Kushner implies many Black Americans do not "want to be successful." pic.twitter.com/QolVpNFxPP

— DNC War Room (@DNCWarRoom) October 26, 2020
If Only We All Had Rich Daddies
26 Oct, 2020
White House adviser and President Donald Trump's son-in-law Jared Kushner came under heavy criticism after he said Monday that Black Americans have to want to help themselves in order for the president's policies to help them.
Kushner said on "Fox & Friends" that the president can help people in the Black community "break out of the problems that they're complaining about, but he can't want them to be successful more than they want to be successful."
He also said that many people in the anti-police brutality and discrimination protests that followed the death of George Floyd in Minneapolis were "just virtue signaling" – a term for empty gestures of outrage or anguish on social media.
"They go on Instagram and cry, or they would, you know, put a slogan on their jersey or write something on a basketball court," Kushner said, dismissing the expressions of outrage and solidarity that many made after video surfaced of Floyd being pinned with a police officer's knee on his neck. "Quite frankly, that was doing more to polarize the country than it was to bring people forward. You solve problems with solutions." 
Kushner's implication that Black Americans lack a drive to succeed and to address the problems facing their community drew criticism that he is blind to his own privilege and that his own success is attributable more to his family's wealth than his own efforts.
White House press secretary Kayleigh McEnany responded to the criticism, saying in a statement that it was "disgusting to see internet trolls taking Senior Advisor Jared Kushner out of context as they try to distract from President Trump's undeniable record of accomplishment for the Black community."
"From criminal justice reform and record HBCU funding to record low Black unemployment and record high income increases, there is simply no disputing that President Trump accomplished what Democrats merely talked about," she said.
Kushner said in Monday's Fox interview that he admired Ice Cube because the rapper and actor was also seeking concrete solutions. Ice Cube, whose real name is O'Shea Jackson, recently met with Kushner and Trump to discuss ideas to help the Black community. Kushner said Ice Cube's proposals influenced the president's "Platinum Plan" to assist Black Americans.
"It was a really in-depth and respectful policy discussion. There were some things we didn't agree on, but there were a lot of things we did agree on. I think he helped make our plan better, and we appreciated it," Kushner said.
Ice Cube's willingness to work with the Trump White House drew criticism from many on social media. He defended the move in an interview with "Fox News Sunday" host Chris Wallace earlier this month.
"I'm not playing no more of these political games," he told Wallace. "I'm going to whoever's in power and I'm going to speak to them about our problems."
Though Kushner claimed there is a "groundswell of support in the Black community" for Trump, a recent Quinnipiac University poll found only 5% of Black likely voters plan to vote to reelect the president and that 83% have an unfavorable opinion of the president.
USAToday
Image Fox Screenshot
Mentioned In This Post:
About the author