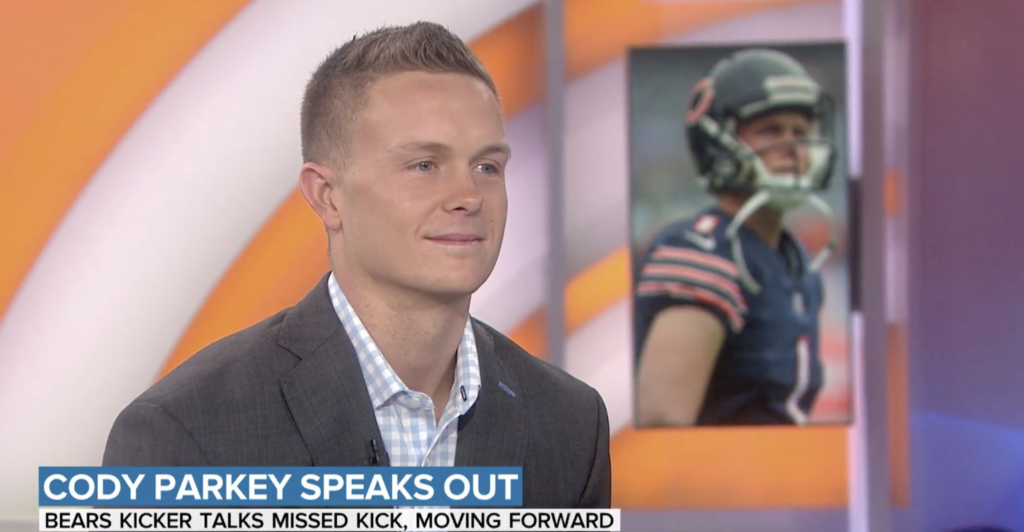 "I'll keep my head held high because football's what I do. It's not who I am." -Cody Parkey on @TODAYshow. pic.twitter.com/4CAYg6X68Z

— Bears Talk (@NBCSBears) January 11, 2019
Instead Of Practicing The Bears Kicker Was Doing This
12 Jan, 2019
Cody Parkey quickly became public enemy No. 1 for Chicago Bears fans in the Wild Card loss to the Philadelphia Eagles. The Bears had a chance to advance to the divisional round of the playoffs last Sunday night, but a miss by Parkey ended that opportunity quickly. Parkey's 43-yard attempt banged off the left upright before hitting off the crossbar for a miss. The veteran kicker then took full ownership of the miss after the game with the assembled media.
It appeared that would be the end of the story for now before Parkey made an appearance on national television on Friday morning.
While appearing on the TODAY Show, Parkey talked about the miss.
"As a kicker, you live for those moments," Parkey said on the show. "I was 3-for-3 before that and had a lot of confidence going into that kick. I went out there and my long snapper and holder did a great job. I saw the wind moving a little bit so I said, 'Alright, this is where I'm going to play it.' I didn't know it was tipped or anything, I just went down and I thought I hit a pretty good kick… Then I saw it hit the upright, then the crossbar and surely it will go in. Unfortunately, it bounced toward me. Obviously, I'm disappointed. I let my fans, my teammates and the whole organization down. I'll continue to keep my head held high because football is what I do, it's not who I am."
Parkey noted in the interview he has not been on social media since the missed kicked. The veteran kicker's wife was also briefly interviewed by the TODAY Show crew.
Parkey made just 23 of his 30 field goal attempts during the regular season. He also missed three extra points. Prior to his miss on Sunday afternoon at the end of the game on Sunday, he had made his previous three attempts in the contest. The Bears inked him to a four-year deal worth $15 million last March with $9 million guaranteed after a couple of years of struggles at the position.
Back in Week 10 against the Detroit Lions, Parkey hit the uprights four different times during the game. Two of those misses came on field-goal attempts and two came on extra points. A week later, he made all of his attempts against the Minnesota Vikings on Sunday Night Football and was named the NFC's Special Teams Player of the Week.
Before the interview ended, co-host Savannah Guthrie said Parkey was deserving of the MHP award: Most Honorable Player.
247Sports
Image JordanHeckff twitter
Mentioned In This Post:
About the author