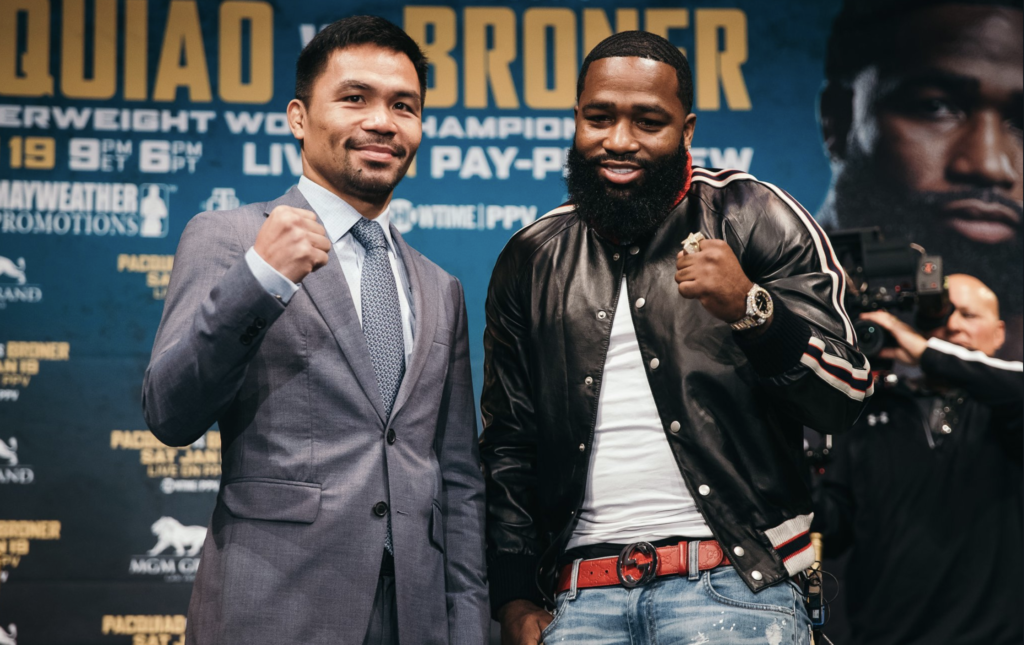 Is Anybody Gonna Watch This Fight?
19 Nov, 2018
Former eight-division champion and Filipino icon Manny Pacquiao will end a two-year hiatus from fighting in the United States when he defends his secondary WBA welterweight title on Jan. 19 against Adrien Broner in Las Vegas.
The long-rumored fight was made official on Monday at a kickoff press conference in New York by Showtime, which will broadcast the fight on pay-per-view from the MGM Grand Arena. The fight, which is presented by Al Haymon's Premier Boxing Champoins, doubles as the first for Pacquiao (60-7-2, 39 KOs) after signing with PBC in October.
Pacquiao, who turns 40 on Dec. 17, parted ways with longtime promoter Top Rank in July which ended a relationship that dated back to 2001. A senator by day in his native Philippines, Pacquiao and his eponymous MP Promotions signed a deal with PBC in hopes of landing a rematch against retired pound-for-pound king Floyd Mayweather.
The PPV will mark the second for Showtime in just a two-month period which includes the Dec. 1 heavyweight championship bout between WBC titleholder Deontay Wilder and lineal champion Tyson Fury. The fight ends a 16-month gap between PPVs for Showtime which dates back to Mayweather's victory over former UFC champion Conor McGregor in August 2017.
Pacquiao-Broner will be co-promoted by MP Promotions, Mayweather Promotions and TGB Promotions, in association with Broner's About Billions Promotions.
"I have missed fighting in Las Vegas. It has been a second home to me," Pacquiao said. "Returning to the MGM Grand Garden Arena to defend my world title against Adrien Broner is an exciting way to stage my homecoming. Adrien is a tough opponent with an accomplished record. But if I have learned one thing while serving in the Philippine Congress and Senate, it is problem solving."
Pacquiao enters the fight on a bit of a resurgence after he ended a nine-year streak without a knockout by finishing veteran Lucas Matthysse in their July title bout in Malaysia. Income tax issues reportedly led Pacquiao to take his career outside the U.S. in recent years with the Broner bout marking his first return since he outpointed Jessie Vargas in their Nov. 2016 welterweight title bout in Las Vegas.
Although he ultimately showed Pacquaio respect during Monday's press conference, Broner (33-3-1, 24 KOs) was his typical colorful self off the start with a series of flashy (if not lewd) comments.
"Y'all got me f—ed up if you think I'm going to lose to Manny Pacquiao," Broner said. "I'm going to beat his mother f—ing ass. It's going to be a hell of a fight. I'm not coming to just pick up a check. I know when I win this fight, there's more money to come.
"I had to call my momma after I looked in the mirror this morning. I had to let her know she has a beautiful son. We finally made it to pay-per-view at 29. I'm the only African-American do to that. This fight means a lot to me.  A win and I turn legend overnight. I got the whole hood with me just like he has the whole Philippines with him. I don't even know how to spell that. But I have the whole hood with me: H-O-O-D."
The 29-year-old Broner, whose career has stalled at times due to constant legal troubles and a lack of dedication despite titles in four different weight divisions, later added that Pacquiao's three best skills are "singing, promoting Hennessy and planking." The latter a reference to Pacquiao's violent one-punch knockout loss to Juan Manuel Marquez in their 2012 fourth meeting.
Broner is fresh off an entertaining majority draw against Vargas in April which featured a much more focused version of the fighter who lost a lifeless and wide decision to Mikey Garcia nine months earlier. The lone time Broner's comedic act on Monday took a more serious tone was when he listened to Pacquiao speak about his goals of a second fight against Mayweather, which caused Broner to interrupt him.
"F— Floyd, no disrespect. But he ain't fighting Floyd, he fighting me," Broner said. "I'm about to beat your ass for that disrespect. Floyd already beat you."
Pacquiao lost a unanimous decision to Mayweather during their long-awaited 2015 superfight that set a new PPV record for combat sports at 4.6 million buys. Despite Pacquiao's age and Broner's inconsistency, their fight is expected to do well financially due to the personal brands of both and the competitive nature of the matchmaking which pairs a faded legend against an underachieving star.
"At this point, oddsmakers have favored Pacquiao. That's understandable because he is a Hall of Famer with a Hall of Fame resume," Showtime Sports president Stephen Espinoza said. "But it would be a mistake to overlook Broner in this fight. Broner never backs down from a challenge.
"As long as I've known him and worked with him he's never turned down a fight, not against bigger opponents like Shawn Porter, not against big punchers like Marcos Maidana, not against the guys that no one wants to fight. Broner gives them tough fights: 12 rounds against Porter, 12 grueling rounds against Maidana. So for those of you that think this is an easy fight, or easy bet because of the odds, think again. These are two of the most talented fighters of this generation, two of the most athletically gifted fighters of this generation. I guarantee this fight will be a must-see attraction."
CBS Sports
Image ShowtimeBoxing twitter
Mentioned In This Post:
About the author