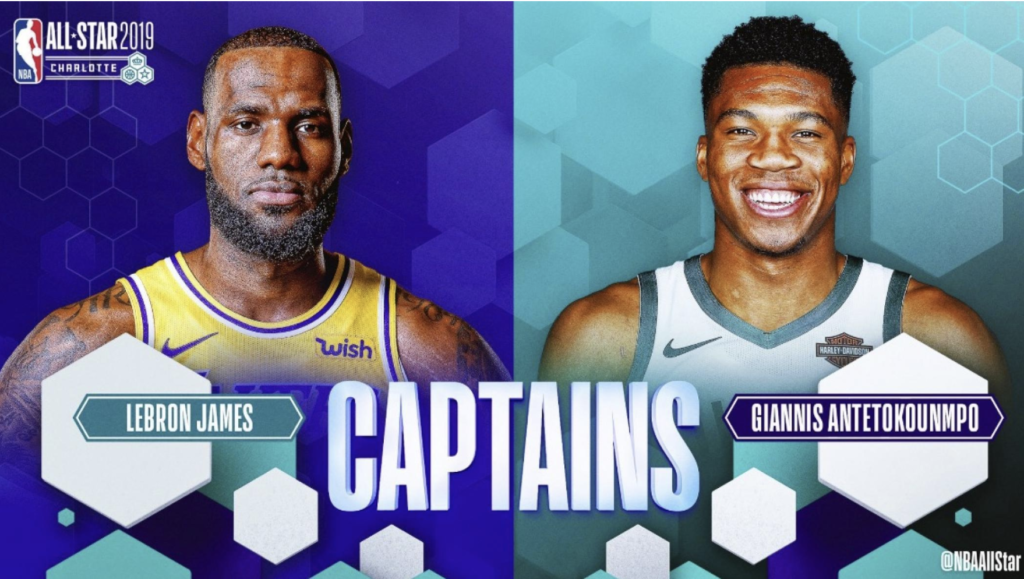 Is This the Past vs The Future?
24 Jan, 2019
The Los Angeles Lakers' LeBron James and the Milwaukee Bucks' Giannis Antetokounmpo lead the list of 10 players – two guards and three frontcourt players from each conference – selected by fans, current NBA players and a media panel to start in the 2019 NBA All-Star Game.
As the All-Star starters who led their respective conferences in fan votes during NBA All-Star Voting 2019 presented by Google, James and Antetokounmpo will serve as team captains and draft the All-Star Game rosters from the pool of players voted as starters and reserves in each conference.
The captains will draft the eight remaining players from the starter pool in the First Round and then all 14 players from the reserve pool in the Second Round, making selections without regard to a player's conference affiliation or position.
The starters were announced tonight by TNT during the TNT NBA Tip-Off presented by Autotrader pregame show.  TNT will unveil the reserves (seven players from each conference), as selected by NBA head coaches, on Thursday, Jan. 31 during TNT NBA Tip-Off at 7 p.m. ET.
By virtue of being the top overall finisher in fan voting, James will make the first pick in the First Round (Starters) during the NBA All-Star Draft.  Antetokounmpo will have the first pick in the Second Round (Reserves).  After the first pick in a round, picks will alternate until all players in that round have been selected.
The 2019 NBA All-Star Game, featuring Team LeBron vs. Team Giannis, will take place on Sunday, Feb. 17 at 8 p.m. ET at Spectrum Center in Charlotte, N.C.  TNT and ESPN Radio will air the game live in the United States.  NBA All-Star 2019 will reach fans in more than 200 countries and territories in more than 40 languages.
NBA.com
Image NBAAllstar twitter
Mentioned In This Post:
About the author