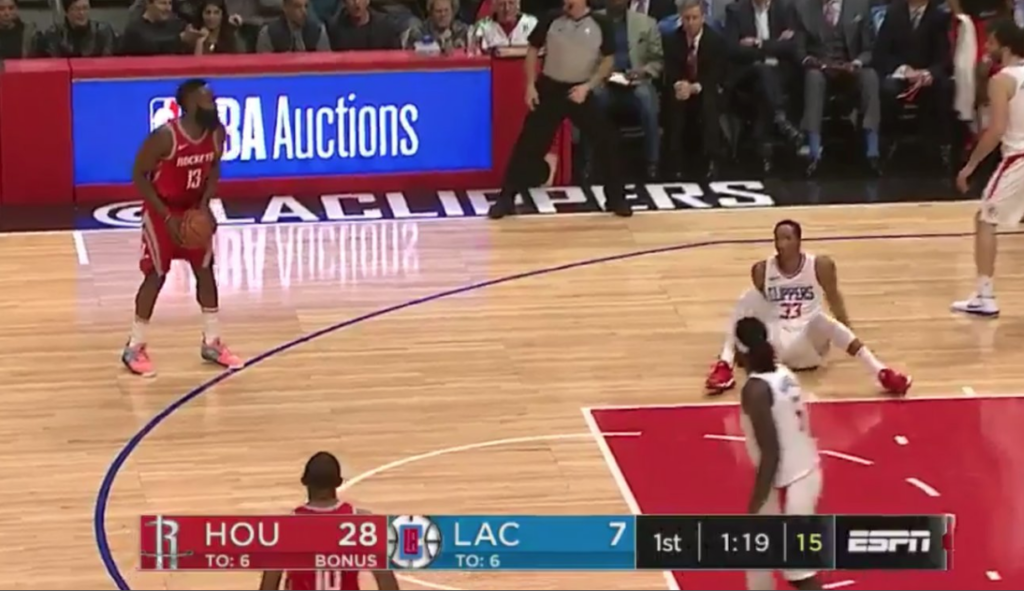 ? JAMES. HARDEN. ?#Rockets pic.twitter.com/JCphxLzP18

— NBA (@NBA) March 1, 2018
James Harden Should Be Arrested For Abuse
01 Mar, 2018
James Harden delivered perhaps the nastiest crossover of the season last night. Harden sent the LA Clippers' Wesley Johnson literally sprawling with his move, then had time to gather himself, get his feet exactly right and nail a 3-pointer.
ESPN's Kevin Arnovitz points out, Harden actually took his shooting hand off the ball during the sequence:
As Johnson recovered a full 10 feet in front of Harden with 15 seconds left on the shot clock, the Houston Rockets' guard paused. He wasn't checking the placement of his toes or scanning the floor for a cutter — it was obvious where the Rockets' shot would materialize.

Harden then actually took his shooting hand off the ball as he stood stationary, as if to casually admire the humiliation that had ensued.

"I was just trying to figure out what he was doing," Harden said. "I was going to shoot it, but I was waiting to see, to figure out what was going on. I was confused. Like did the ref call side out of bounds?"

Still surrounded by open space, Harden toggled back to the task at hand. He placed his left hand back on the ball as Clippers guard Milos Teodosic scampered toward him for a half-hearted close-out attempt, then Hadren launched a silky jumper that put the Rockets up 31-7.

"It was a great move," Rockets teammate Eric Gordon said. "Of course, it was crazy. You don't see things like that all the time. I definitely laughed. Everybody is going to be talking about that for a while."
In all, that move was the standout moment in a 105-92 win that marked the Rockets' 14th straight win — the second 14-game win streak Houston has run off this season. Highlights and dazzling moves have marked Houston's streak, all while helping it to the top spot in the Western Conference — although the Rockets are still battling the Golden State Warriors for that honor.
NBA.com
Image PeteBlackburn twitter
Mentioned In This Post:
About the author