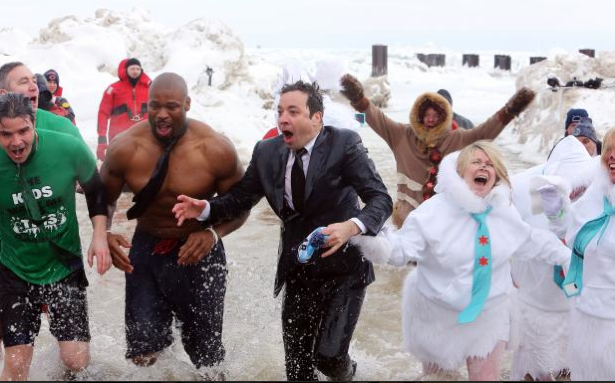 Jimmy Fallon Takes the 'Polar Plunge' in Chicago
02 Mar, 2014
Comedian Jimmy Fallon took a quick but icy dip in Lake Michigan – dressed in a full suit and tie – eyes bulging as he darted out of the slushy water and headed straight for a pile of dry towels.
"The Tonight Show" host made good on his promise to make Sunday morning's "Polar Plunge" with Mayor Rahm Emanuel as a condition for the mayor appearing on Fallon's show in New York, following an exchange of tweets and challenges.
"If you hear a scream like a little girl's … know that Jimmy Fallon is swimming in Lake Michigan," Fallon told the crowd shortly before running in.
Emanuel, wearing a green Chicago Public Library T-shirt and shorts, went first, with Fallon just after. Both were soaked as they fled the water to cheers from a large crowd. A group of bagpipers, wearing yellow rain boots and traditional kilts, provided the soundtrack for their rapid dash into the 32-degree lake.
The annual event draws several thousand hearty plungers to raise money for Special Olympics Chicago.
Scores of people dressed in parkas and polar bear outfits, some carrying signs, gathered along the lakefront early, hoping to catch a glimpse of Fallon. It was 10 degrees during the plunge, and Chicago firefighters in red wetsuits waded in before the waves of brave souls, throwing chunks of ice out of the area.
AP
Image Tasos Katopodis/Getty Images
Mentioned In This Post:
About the author