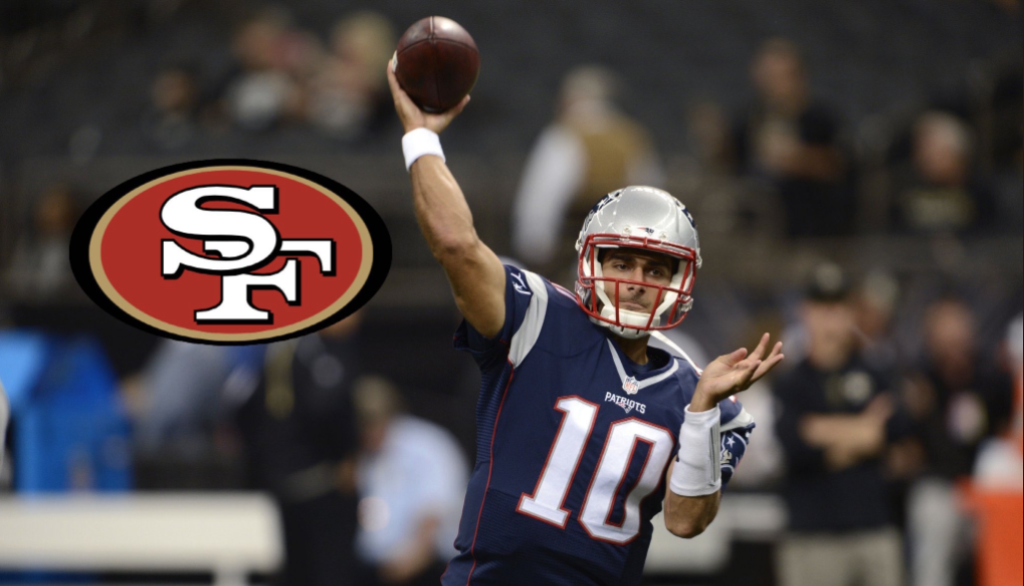 Jimmy G's Finally Getting The Spotlight, Hope He's Ready
30 Oct, 2017
The New England Patriots have traded quarterback Jimmy Garoppolo to the San Francisco 49ers for a 2018 second-round pick, NFL Network Insider Ian Rapoport reported, per a source involved.
ESPN first reported the development.
In a corresponding move, the 49ers informed quarterback (and former Patriots backup) Brian Hoyer of his release, Rapoport reported. Hoyer was originally included in the Garoppolo deal, but was taken out of the deal because of compensatory pick reasons, Rapoport added. The Patriots will now need to add a quarterback to their roster to backup Tom Brady after trading away Jacoby Brissett, and now Garoppolo — Hoyer could be a potential option.
"He was a great teammate and a great friend. Always will be," Brady said on Westwood One with Jim Gray on Monday night. "I mean, he's put in all the effort. I've watched him for the three and half years and really enjoyed working with him and hopefully he goes on and does a great job."
New England was facing a situation in which it wouldn't be able to keep Brady (for his age-41 season and however longer) and Garoppolo, with the backup heading for free agency in 2018 with a market desperate for anything average or better under center. Brady has done plenty over the years to restructure his contract to make New England's cap situation more flexible for winning, but there's nothing he could do to fit the type of contract Garoppolo is going to get from someone.
Who's that someone? The Cleveland Browns (get out the tissues again before you read this, Browns fans), perhaps the New York Jets, and yes, the San Francisco 49ers. General manager John Lynch just got a jump on attempting to re-sign Garoppolo, and nine weeks to see how he'll fit with his team.
So what are the Niners getting in Garoppolo? The signal-caller has long held the great card of temptation — potential — for those clubs envious of New England's quarterback situation. Garoppolo has seen very limited action, with his most notable playing time coming during Brady's four-game suspension at the start of the 2016 season, in which the backup started two games and only made it through five and a half quarters before being knocked out by injury.
During that stretch, Garoppolo showed flashes of potential future success, completing 24 of 33 passes for 264 yards and one touchdown in a win over Arizona, and 18 of 26 passes for 232 yards and three, count them, three touchdowns in the Week 2 game against Miami. The small amount of tape made those aforementioned teams salivate. It also made San Francisco send a second-round pick to New England for him.
The trade deadline looms, so that can explain the timing. New England has made it through the first games with just two losses, meaning the Patriots will be in contention down the stretch and don't necessarily need the insurance of Garoppolo. From their standpoint, they got a reliable backup they rarely needed to turn to out of their second-round pick spent on him in 2014, and basically exchanged him for a new second-rounder to spend this offseason. Not a bad deal.
NFL.com
Image TopShelfpodcast twitter
Mentioned In This Post:
About the author