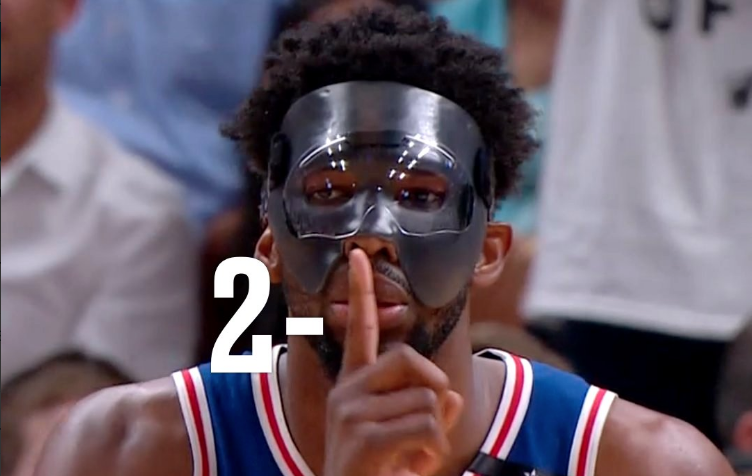 Joel Embiid Was Scary Good In His Playoff Debut
19 Apr, 2018
Embiid's playoff debut was a smashing success for Philadelphia. The All-Star center returned from a 10-game absence by scoring 23 points, including a personal 7-0 run down the stretch that iced matters, and the 76ers reclaimed control of their Eastern Conference first-round series by topping the Miami Heat 128-108 on Thursday night.
The 76ers outscored the Heat 32-14 in the fourth quarter, and took a 2-1 lead in the series.
"I am just so proud of what he did," 76ers coach Brett Brown said.
Rightly so, too. Embiid started the day doubtful, ended it dominant, and had plenty of help as well. Marco Belinelli and Dario Saric each scored 21 for Philadelphia, and Ben Simmons finished with 19 points, 12 rebounds and seven assists.
"It was annoying," Embiid said of getting used to the mask. "But that was the only way I could play in this game, if I wore the mask and protected my face with goggles. I had to work through it and I did."
Thursday began with the 76ers saying Embiid wasn't likely to play. His status was upgraded to probable in the afternoon and then he finally was inserted into the starting lineup – medical clearance coming from the team, mask clearance coming from the NBA after the league signed off on the dark, translucent, carbon-fiber, goggled apparatus that was made in consultation with independent experts.
The mask came off a couple times, the goggles were askew at times as well – Heat forward Justise Winslow even stomping on them once for good measure, a play that Brown chalked up to the intensity of playoff basketball – but in the end Embiid found a way.
"It's definitely a different look when you have an All-Star back in the lineup," Winslow said. "It changes things, for sure."
Goran Dragic scored 23 points for Miami, which got 19 from Winslow and 14 from Josh Richardson.
Game 4 is Saturday afternoon.
Embiid banked in a turnaround straightaway jumper – a fortuitous bounce – to put Philadelphia up nine late, then connected on a 3-pointer and added a pair of throws to start the spurt that put away the game.
Meanwhile, Miami couldn't find any sort of stride.
Hassan Whiteside was mired in foul trouble and ineffective, finishing the night all of 1 for 1 from the field for five points. Dwyane Wade, who Miami needed to be superb in the win at Philadelphia in Game 2, shot 2 for 10. Wayne Ellington, Miami's single-season leader in 3-pointers after making a record 227 this season, was 1 for 5 from the floor.
The Heat won Game 2 by controlling the physical battle.
Game 3 was another street fight, and Philadelphia didn't back down. Philly won Game 1 by dominating the second half, and Game 3 went a similar way. The 76ers outscored Miami 74-43 in the second half of Game 1, and 65-44 in the second half on Thursday.
"It's clear that the first game and the third game were played on their terms," Heat coach Erik Spoelstra said.
NBA.com
Image SB Nation
Mentioned In This Post:
About the author