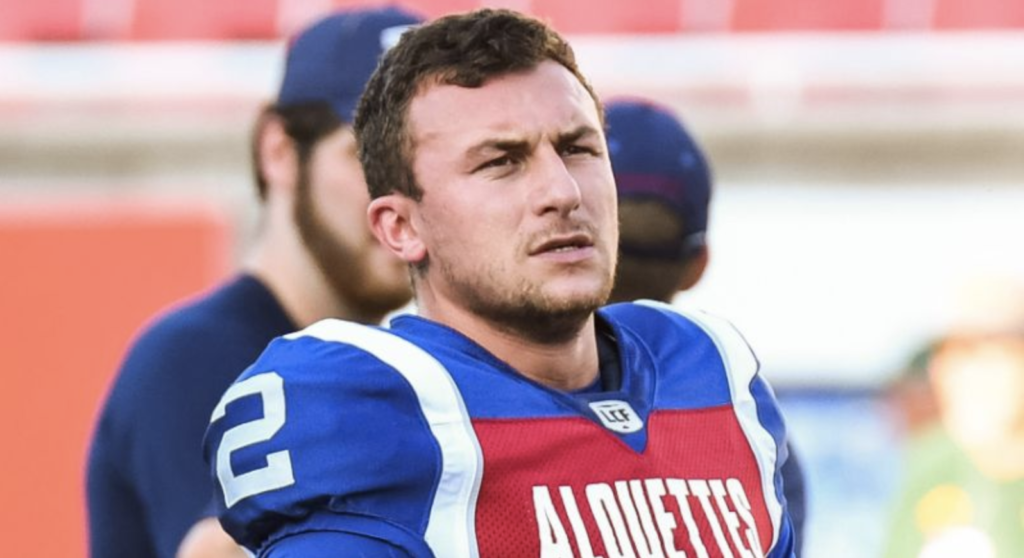 Johnny Football Is No Longer Welcome In Canada
27 Feb, 2019
Johnny Manziel's time with the Montreal Alouettes — and potentially the Canadian Football League — has come to an end.
The CFL franchise announced Wednesday that it has released Manziel "based on the direction" of the league. In a press release, the CFL says "it was found that Manziel had contravened the agreement which made him eligible to play in the league."
On top of that, the CFL says it has "informed all of its clubs that it will not register a contract" for Manziel if any other team attempts to sign him.
Manziel, who won the Heisman Trophy as a star quarterback at Texas A&M, was a first-round pick of the Cleveland Browns in 2014. But his time in Cleveland fizzled out quickly amid a myriad of off-field issues, including violating the NFL's substance abuse policy and a domestic violence incident involving his ex-girlfriend. Manziel was released by Cleveland after the 2015 season and did not return to the field until he agreed to play for the CFL's Hamilton Tiger-Cats in late 2017.
Manziel was the No. 2 quarterback in Hamilton before the team traded him to Montreal in July. In eight games for the Alouettes, he threw for 1,290 yards, five touchdowns and seven interceptions while completing 64.2 percent of his passes.
"We are disappointed by this turn of events. Johnny was provided a great deal of support by our organization, in collaboration with the CFL, but he has been unable to abide by the terms of his agreement," said General Manager Kavis Reed in a statement. "We worked with the league and presented alternatives to Johnny, who was unwilling to proceed."
In March 2017, the Tiger-Cats added Manziel to their Negotiation List, meaning they gained the exclusive rights to sign him. From there, Manziel angled for a return to the NFL but eventually entered negotiations with Hamilton.
In September 2017, CFL commissioner Randy Ambrosie said the league would not agree to allow Manziel to sign with Hamilton until certain conditions were agreed upon. In December of that year, Ambrosie approved Manziel's contract with Hamilton.
At that point, the CFL released a statement detailing the process of determining Manziel's eligibility. The details of the aforementioned conditions, however, remained confidential.
The process "included an ongoing assessment by an independent expert on the issue of violence against women, a review by legal counsel, and an in-person interview of Mr. Manziel conducted by the Commissioner." Manziel also was "required to meet a number of conditions set by the league."
"The process that led to this decision does, however, continue. Mr. Manziel has been informed he must continue to meet a number of conditions in order to remain eligible. These conditions, while extensive and exacting, remain confidential," the statement said.
However, in a June 2018 interview with USA Today, Manziel revealed that those conditions include mandatory visits to a doctor and a therapist, plus the use of medication for his bipolar disorder.
Yahoo Sports
Image BSO twitter
Mentioned In This Post:
About the author