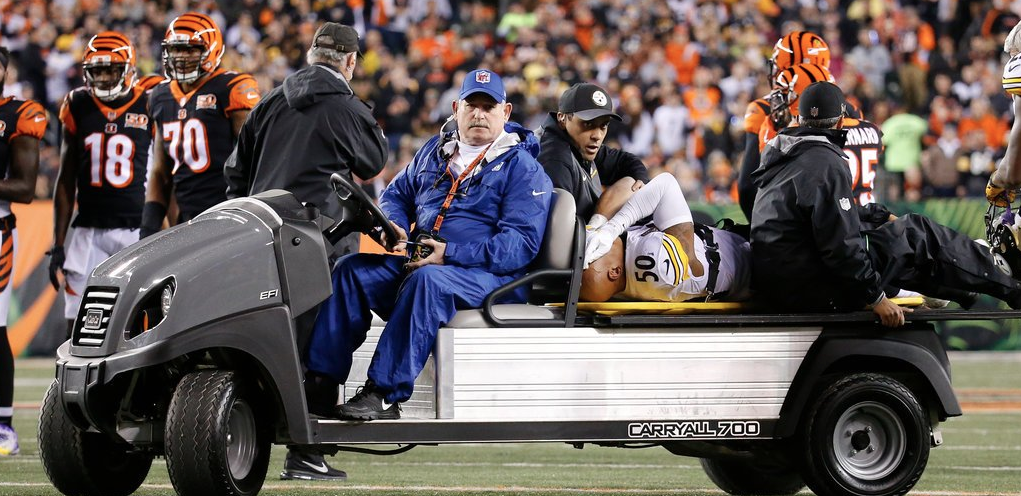 Linebacker Hospitalized After Helmet 1st Collision
04 Dec, 2017
Pittsburgh Steelers linebacker Ryan Shazier suffered an unspecified back injury Monday night at Cincinnati but is not expected to need surgery, according to team general manager Kevin Colbert.
The Steelers announced hours after their 23-20 win against the Bengals that the Pro Bowler hopes to return to Pittsburgh on Tuesday. Shazier underwent a CT scan and MRI after being injured in the first quarter. He was carted off the field and taken by ambulance to University of Cincinnati Medical Center after going limp and slumping to the turf after tackling receiver Josh Malone using the crown of his helmet.
Coach Mike Tomlin provided no update on Shazier immediately following the game.
NFL Network reported Shazier had suffered a spinal contusion. The Pittsburgh Post-Gazette reported he had a spinal concussion.
Trainers worked for several minutes on Shazier, the Steelers' leading tackler, who was eventually strapped to a backboard and carted off the field at Paul Brown Stadium before being taken to the hospital.
Shazier, who didn't appear to be moving his legs, covered his head with his hands as he left the field.
Tomlin acknowledged the difficulty he and his team had emotionally overcoming Shazier's loss during the game.
Bengals quarterback Andy Dalton was among those who offered encouragement to Shazier as he left the playing field.
Cincinnati linebacker Vontaze Burfict was also carted off the field later in the game after an illegal helmet-to-helmet hit from Steelers wideout JuJu Smith-Schuster, who was also penalized for taunting Burfict on the play after standing over his body. Smith-Schuster apologized after the game.
Burfict was ruled out with a head injury, however before the cart got to the locker room, he jumped off and ran into the locker room.
USA Today
Image FeedSportNews twitter
Mentioned In This Post:
About the author