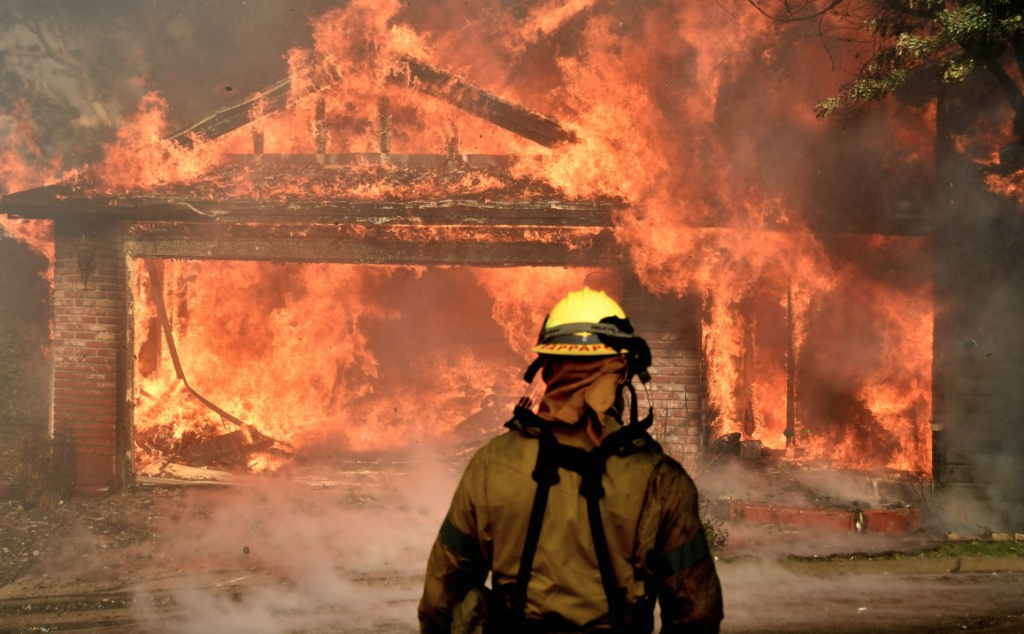 Los Angeles May Never Be The Same
07 Dec, 2017
The fierce Santa Ana winds that have driven massive wildfires in Southern California could get even stronger Thursday, officials warned, as four fires near Los Angeles grew to engulf more than 100,000 acres.
Early Thursday, miles of the 101 freeway were closed in both directions west of Ventura; the road might not reopen until Friday, the California Department of Transportation says.
Forecasters predict gusts of up to 80 mph, likely grounding helicopters and fixed-wing aircraft that can drop water on the blazes.
"The forecast for [Thursday] is purple," Ken Pimlott, director at the California Department of Forestry and Fire Protection, said last night, referring to the only color above red on the wind scale. "We've never used purple before."
And as of now at least, an end to the threat is a long way away. The National Weather Service office in Los Angeles and Oxnard says it expects critical fire weather conditions to linger into Saturday, with the winds paired with extremely low humidity.
The NWS office adds that when a fire gets started in those conditions, there's a high chance of "very rapid fire spread, long range spotting, and extreme fire behavior."
As The Associated Press notes, "The wilder winds could easily make new fires explode too, as one did Wednesday in Los Angeles' exclusive Bel-Air section, where a fire consumed multimillion-dollar houses that give the rich and famous sweeping views of Los Angeles."
The fires have produced vivid and shocking images of massive walls of flame. But on Wednesday night, a much smaller scene of peril played out, when a man was seen getting out of his car to rescue a rabbit that was near perilous flames on Highway 1 in La Conchita. In a dramatic sequence captured by RMG News, the rabbit ran away from the man — and toward the flames — before he managed to corral it. He declined to be interviewed afterwards.
Making the situation more dangerous for anyone trying to get out of affected areas, the fires have forced closures on arterial roads. In addition to the shutdown of a stretch of the 101 on Thursday, a portion of the 405 freeway was closed in both directions for a time on Wednesday.
Cal Fire estimates that hundreds of structures, including 200 homes, have been destroyed, and that as many as 200,000 people are under evacuation orders. Some 12,000 structures are considered in danger.
Gov. Jerry Brown declared a state of emergency for Los Angeles and Ventura counties, which will free up state resources.
Remarkably, so far no deaths have been reported.
NPR
Image Macus Yam twitter
Mentioned In This Post:
About the author