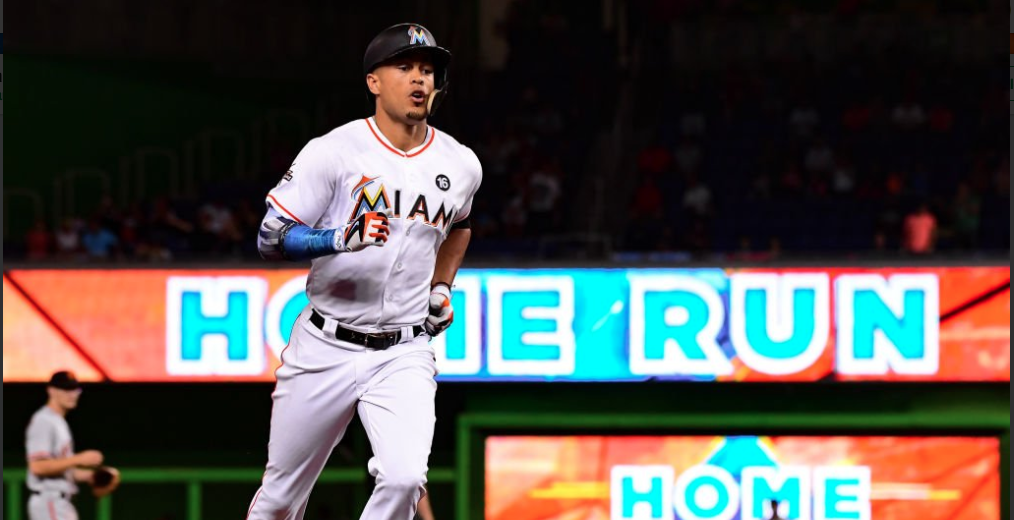 Make it Six Straight for Stanton
15 Aug, 2017
With the franchise record now under his belt, Giancarlo Stanton is taking aim at another MLB mark — most consecutive games with a home run — as the slugger homered for the sixth straight game on Tuesday in Miami's 9-4 loss to the Giants at Marlins Park.
The Major League record for the most consecutive games in which a home run has been hit by a player is eight (held by Ken Griffey Jr., Dale Long and current Marlins manager Don Mattingly).
"These kinds of streaks are fun," Mattingly said. "His has been prolonged. Mine was a little 'eight-dayer'. It's just one of those things, you're feeling good up there.
"I'd like to see him beat it, really, because that means the first two games in New York he homers, and he homers tomorrow. … We're trying to win games, and the last thing I'm going to do is root against him hitting homers. I'm all for it."
At 57-61, the Marlins are pushing to reach the .500 mark, and perhaps get into the National League Wild Card race. After closing out the series with the Giants on Wednesday, Miami opens a three-game series starting on Friday vs. the Mets at Citi Field.
Stanton connected in the third inning off 2014 World Series MVP Madison Bumgarner.
"That's always fun," Bumgarner said of the showdown. "I look forward to those. I might not go about those at-bats in the smartest way, but they certainly are fun though. He's locked in for sure."
Stanton's MLB-high 44th of the season was projected by Statcast™ at 432 feet with an exit velocity of 107.1 mph. The last player to hit homers in six straight games was Colorado's Nolan Arenado from Sept. 1-5, 2015.
Stanton is making a historic run, as he now has 11 homers in his past 12 games, and 23 in his past 35 games.
With 11 homers in August, Stanton already has established a Marlins record for the month. He held the old mark, with 10 in 2012.
MLB.com
Image Marlins twitter
Mentioned In This Post:
About the author