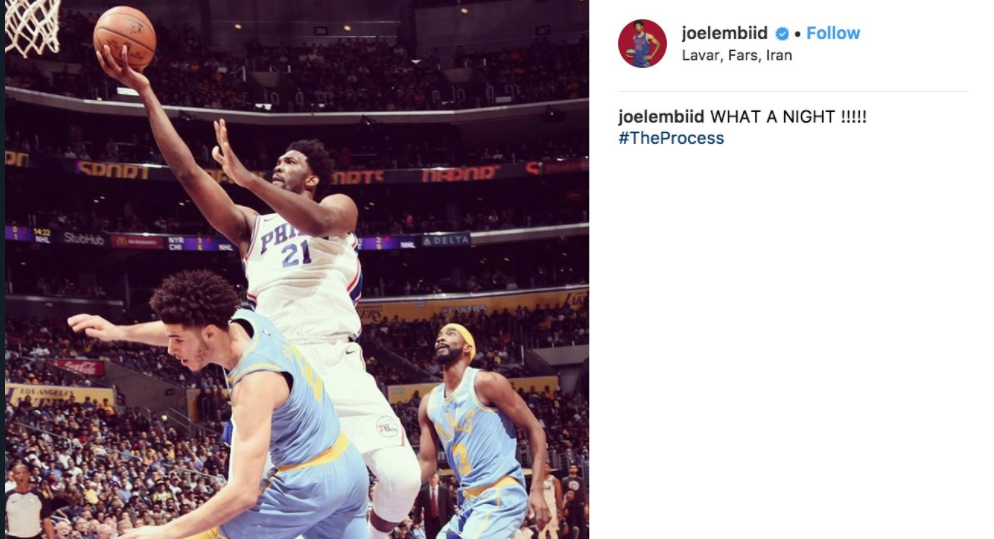 My Goodness! We trust The Process
16 Nov, 2017
In a matchup of teams with rising young stars, Joel Embiid stood out above the rest.
The 7-foot center scored a career-high 46 points – the most by a Philadelphia player in 11 years – and grabbed 15 rebounds to lead the 76ers past the Los Angeles Lakers 115-109 on Wednesday night.
And that was only part of his night. Embiid also had seven assists and seven blocked shots, making him the first NBA player with 40 points, seven assists and seven blocks in a game since Julius Erving did it for the 76ers against Detroit in 1982, according to ESPN Stats & Info.
"Tonight we realized we had Joel Embiid, and he was just dominant," said Sixers coach Brett Brown.
Philadelphia also got an outstanding game from rookie guard Ben Simmons, who barely missed a triple-double with 18 points, 10 assists and nine rebounds.
Yet it was Embiid who was simply unstoppable. The Lakers tried three different defenders on him to no avail, but seldom double-teamed him.
"I was just playing basketball and being aggressive, just like I was against the Clippers," said Embiid, who played 31 games last season and averaged 20.2 points in his NBA debut.
The 23-year-old Embiid, who missed his first two seasons due to injury, set a career high with 16 rebounds against the Los Angeles Clippers in the same building Sunday, when he had 32 points in a 109-105 victory.
NBA.com
Image JoelEmbiid instagram
Mentioned In This Post:
About the author