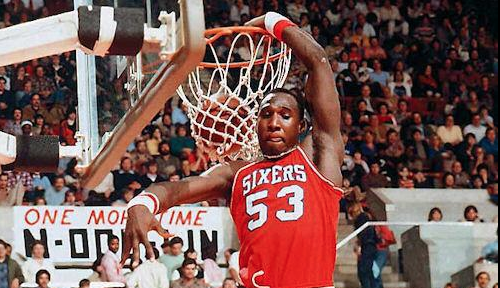 NBA Legend Darryl "Chocolate Thunder" Dawkins Has Died
27 Aug, 2015
Former NBA star Darryl Dawkins, known as "Chocolate Thunder" for his powerful dunks and flamboyant play, died at 58 on Thursday.
A spokesperson for Lehigh Valley Hospital-Cedar Crest confirmed that Dawkins died there, but did not provide a cause of death, according to the website NJ.com.
Known for shattering two glass backboards in 1979 with explosive dunks, Dawkins, who got his nickname from musical great Stevie Wonder, averaged 12 points, 6.1 assists and 1.4 blocks per game throughout his 14-season NBA career.
Thanks to his high-flying game and his size and strength, the NBA was forced to adopt breakaway rims and impose fines and suspensions for breaking backboards during games.
In 1975, Dawkins, a 6-foot-11, 255-pound center, became the first player taken directly from high school in the first round of the NBA draft, one year after Moses Malone went to the rival American Basketball Association after being drafted out of high school by the Utah Stars.
The Philadelphia 76ers selected Dawkins with the fifth overall pick and he went on to play with the team for seven seasons before moving to the New Jersey Nets for five years. He played four games for the Utah Jazz in 1987-88 before ending his NBA career with the Detroit Pistons in the 1988-89 season.
Dawkins averaged in double figures in points nine times in his career but never lived up to his massive expectations.
After leaving the NBA in 1989, Dawkins, who jokingly said he was an alien from the planet Lovetron, played two seasons in Italy and then with the Harlem Globetrotters.
He retired from basketball in 2000 after several coaching stints.
Reuters
Image NBA Lowdown twitter
Mentioned In This Post:
About the author