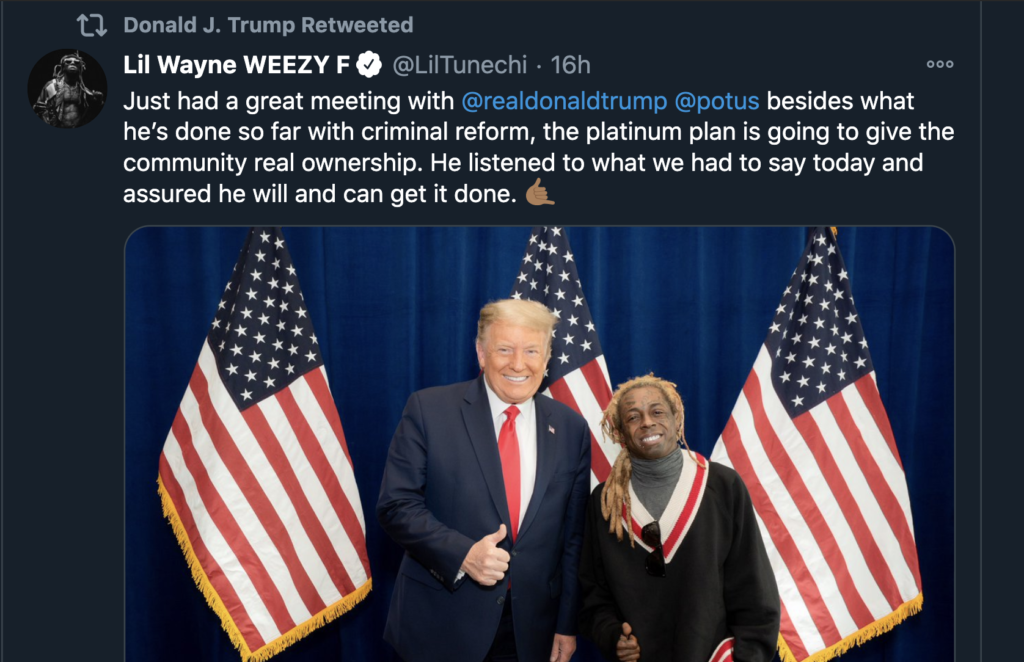 Newest Collab Lil Wayne x MAGA
29 Oct, 2020
On Thursday (Oct. 29), Lil Wayne posted a photo of himself with President Trump on Twitter and thanked him for a "great meeting" to discuss the White House's so-called "Platinum Plan" for Black America.
"Just had a great meeting with @realdonaldtrump @potus," Wayne wrote. "Besides what he's done so far with criminal reform, the platinum plan is going to give the community real ownership. He listened to what we had to say today and assured he will and can get it done."
Earlier in October, the Trump administration announced its Black Economic Empowerment "Platinum Plan," inspired in part by Ice Cube's Contract With Black America. The "Platinum Plan" aims to "increase access to capital in black communities by almost $500 billion" by creating 500,000 black-owned businesses and 3 million new jobs for the black community, plus strengthening immigration and policing policies.
Cube came under fire for working with the administration, with critics calling the N.W.A rapper a "sellout," but he defended his involvement during an interview with Fox News' Chris Wallace. "I've told everybody that I'm not playing politics with this," Cube said of his Contract With Black America. "I'm willing to meet with anybody who could bring this to life and make it a reality."
Lil Pump and 50 Cent have both spoken in favor of President Trump in recent days as well, citing Joe Biden and Kamala Harris' tax plan as motivation.
Billboard
Image Trump Twitter
Mentioned In This Post:
About the author