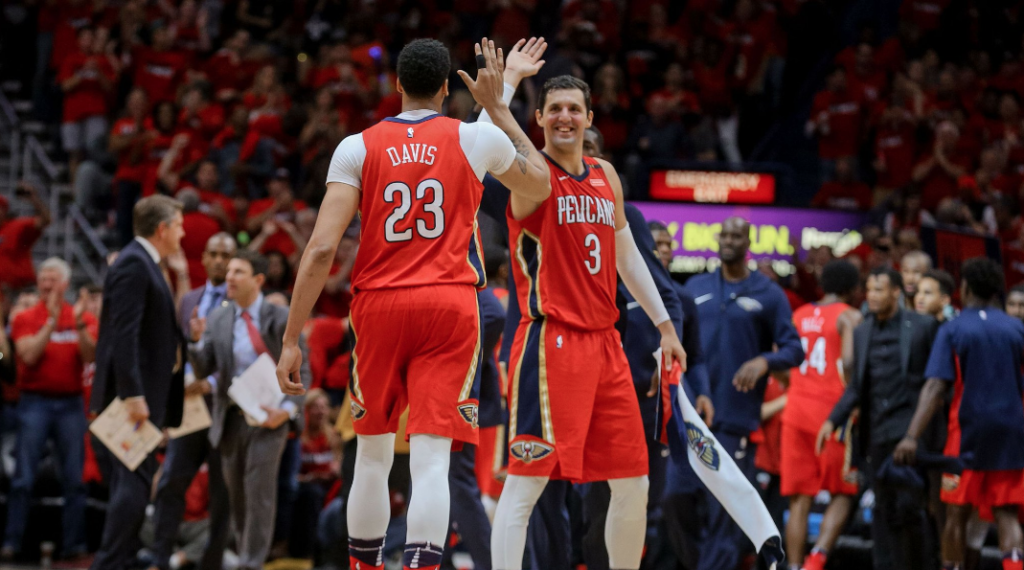 Next! The Pelicans Sweep The No. 3 Seed
21 Apr, 2018
Anthony Davis sat on the court, a scowl on his face and his biceps flexed on each side of his head.
The Pelicans All-Star had just converted a layup as he fell to the court after a hard foul. His strength-projecting celebration afterward was that of a franchise player determined to lay the foundation of his playoff legacy with a dominant performance in the clutch.
"In a close-out game and then the magnitude of the situation, this is probably the best game he's played since I've been here," Pelicans coach Alvin Gentry said. "He just was not going to let us lose."
Davis scored 33 of his franchise playoff-record 47 points in the second half – including 12 points in the final five minutes – and New Orleans completed a first-round playoff sweep of the Portland Trail Blazers with a 131-123 victory on Saturday night.
"It was fun," Davis said. "It was an amazing feeling for me to go out and sweep these guys and play the way that I played."
And when Davis wasn't devastating the Blazers, Jrue Holiday was giving Portland fits with explosive drives or pull-up jumpers. Holiday capped his 41-point night with an 18-footer that gave the Pelicans a six-point lead with 40 seconds left.
Rajon Rondo had 16 assists, and Davis also had 11 rebounds and three blocks for New Orleans, which is moving on to the second round of the playoffs for only the second time since the NBA returned to the city 16 seasons ago.
Rondo has said he came to New Orleans to play with what he viewed as the best "Big Three" in the NBA – Davis, Holiday and DeMarcus Cousins. Misfortune struck Cousins in late January, when he was lost for the season to a left Achilles tear. Davis and Holiday had to raise their games, and have come through beyond expectations.
Portland never gave up, trimming a 15-point second-half deficit to a single point on Al-Farouq Aminu's layup with 5:08 to go, but Davis responded with 12 points over the final 4:56, staring with a layup as he was fouled and a 3-pointer. Holiday scored six points during the final 2:52, starting with his 3-pointer. The pair combined for all but one of New Orleans' points during that pivotal stretch.
"You put the ball in these two guys' hands and they delivered for us," Rondo said. "I couldn't ask for a better duo right now, especially at the time of the game where we needed to get the ball in the hole."
C.J. McCollum scored 38 for the Trail Blazers, who responded to a blowout loss in Game 3 by keeping Game 4 close until the final minute. Aminu scored 27, Damian Lillard added 19 points and Jusuf Nurkic had 18 points and 11 rebounds before fouling out.
The sweep represented a quick, unceremonious and somewhat surprising end to a season that saw the Blazers climb to third in the Western Conference on the strength of a recent 13-game winning streak. But Portland seemed to cool off shortly before the regular season ended, and never regained peak form.
"It's not how we envisioned it happening for us, especially getting home court," Lillard said. "We just weren't playing our best basketball like we had been during that stretch of 13 games. And then we come in here against a team that probably played their best stretch of basketball when they had to."
NBA.com
Image thebirdwrites twitter
Mentioned In This Post:
About the author