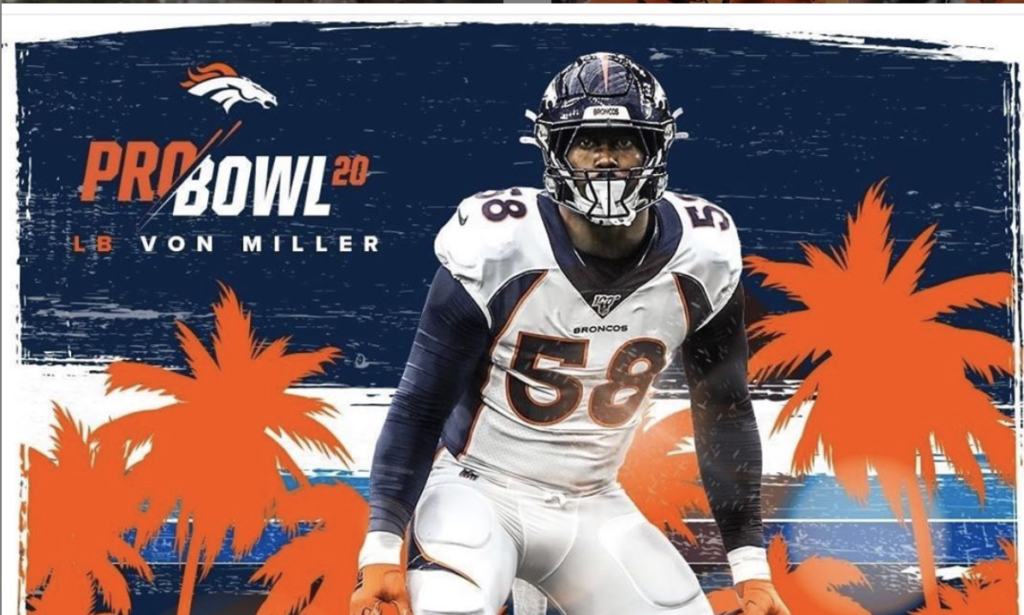 NFL Superstar Tests Positive for COVID-19
17 Apr, 2020
One of the game's best pass rushers and a former Super Bowl Most Valuable Player, Denver Broncos defensive end Von Miller has a confirmed case of COVID-19, NFL Network Insider Ian Rapoport reported Thursday, per Miller's agents.
The Broncos are aware of the situation, Rapoport added. Miller found out he was positive for COVID-19 on Thursday morning after he was tested a "couple days ago," per NFL Network's James Palmer. Miller saw Broncos team doctors after feeling sick recently, Palmer added.
Miller went on NBC's "Today" on Friday to detail how he learned of his illness and provide an update on his status.
"It all started with just a simple cough and then it got worse," Miller said. "I also have asthma and my girlfriend, she was telling me that I wasn't sounding normal and I should try my nebulizer, so I did. I tried the nebulizer, which I do before football games and practices regularly. But this time was different. It really didn't work like it should I waited another day. The cough didn't go away and my assistant, she said, 'Why don't you just go get tested? There's no harm in getting tested.' I went down the street, went and got tested. Two days later, my doctor called me and said that I had a positive result for COVID-19.
"I was shocked. We've been taking this seriously since day one."
The Broncos released a statement shortly after the news came to the forefront.
"After experiencing flu-like symptoms, Denver Broncos linebacker Von Miller has tested positive for COVID-19," the statement began. "Von has elected to share his diagnosis publicly to emphasize that anyone can be afflicted with coronavirus.
"Von is doing well and recovering at home in self-isolation. He remains under the care of team doctors, who are following all coronavirus treatment procedures to ensure a safe environment for Von and our community.
"Von is the first member of the Broncos' organization known to have tested positive for COVID-19."
The news comes a day removed from Rams offensive lineman Brian Allen becoming the first known NFL player to have tested positive for the new coronavirus.
One of the NFL's most well-known talents and recognizable faces, 31-year-old Miller is an eight-time Pro Bowl selection with three All-Pro credits and 106 sacks in his decorated nine-year career.
Saints coach Sean Payton announced last month that he had tested positive for the coronavirus before a follow-up announcement that he had recovered. The pandemic has also resulted in the NFL having closed all its team facilities and moved to a virtual 2020 NFL Draft from April 23-25.
The hulking Miller, a 6-foot-3, 250-pound standout off the edge known for his fearsome play, trademark glasses and seemingly ever-present smile off the field, has now become one of the most notable athletes in the sports world to have tested positive.
NFL.com
Image Von Miller Instagram
Mentioned In This Post:
About the author