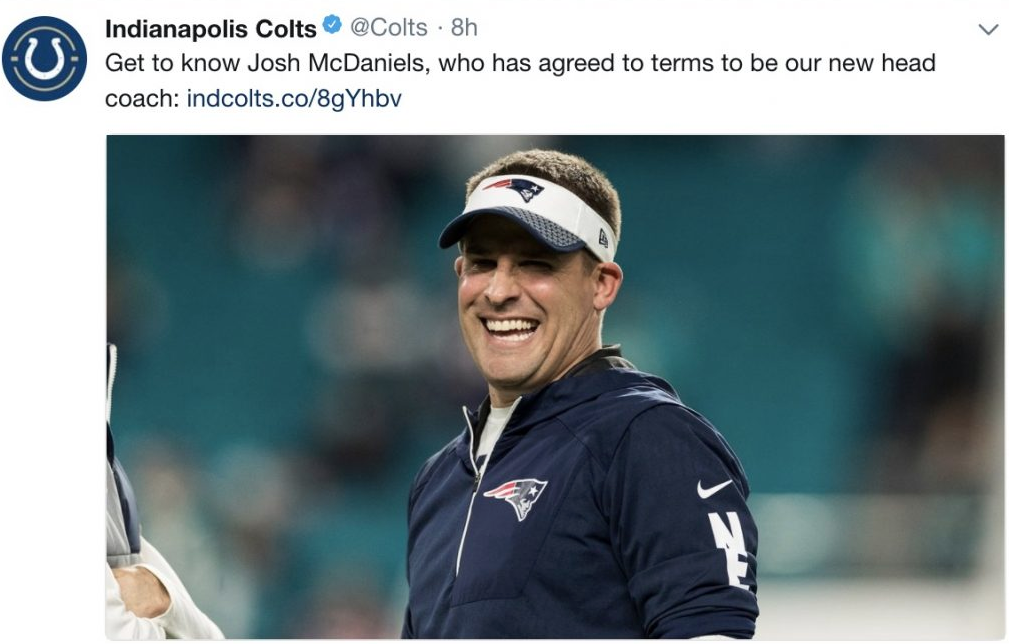 On Second Thought F*ck You Indy
06 Feb, 2018
After two days of reflection and conversations with the New England Patriots, New England offensive coordinator Josh McDaniels has decided not to accept the Indianapolis Colts' head coaching job, league sources told ESPN.
In the past 48 hours, Patriots owner Robert Kraft began talking with McDaniels and ultimately wound up sweetening his contract, helping to entice him to remain in New England rather than leave for Indianapolis, which announced it would be holding a news conference Wednesday to introduce its new head coach. But McDaniels did not have a signed contract with the Colts, according to a source.
But this wasn't a decision about money. The truth is, McDaniels has been vacillating on this decision throughout the interview process, ever since meeting with the Colts on wild-card weekend. It is the reason a second meeting with Colts officials and team owner Jim Irsay was held. McDaniels was trying to get comfortable with the idea of taking his family out of New England and moving it to Indianapolis.
Throughout the process, McDaniels had emphasized to the Colts that he would need time to mull the decision and discuss it with his family. The more McDaniels reflected on potentially having the opportunity to coach the Colts, the more it did not feel right to him and the better it felt to remain in New England. McDaniels still would like to become a head coach again, but this time, in this instance, he was not comfortable.
The Krafts also stepped in this week to make McDaniels feel even more wanted, and the two sides were able to come to an agreement Tuesday night that will enable New England to retain its offensive coordinator at a time it is losing its defensive coordinator, Matt Patricia, to Detroit.
McDaniels' decision to stay could spark speculation that perhaps Belichick's tenure is about to end, but those close to McDaniels say that isn't the case — and if it was, he would have been more inclined to leave, a source told ESPN's Mike Reiss. The bigger factor to McDaniels was that the Patriots, who hadn't addressed his future until the last week or so, made an ultra-aggressive late push to try to entice him to stay. Had that happened a month or so ago, and there was clarity that Belichick was definitely going to be coach in 2018 (which he decisively is), McDaniels might not have pursued other head-coaching jobs as aggressively as he did.
Indianapolis now finds itself in a coaching bind, playing catch up, at a time when the other head-coaching openings in the league have been filled. During the interview process, the Colts spoke with McDaniels, who is remaining in New England; former Kansas City Chiefs offensive coordinator Matt Nagy, who accepted the Chicago Bears' head coaching job; former Houston Texans defensive coordinator Mike Vrabel, who accepted the Tennessee Titans' head coaching job; former Carolina Panthers defensive coordinator Steve Wilks, who accepted the Arizona Cardinals' head coaching job; Baylor head coach Matt Ruhle, who said he's remaining at the school; and former Seattle Seahawks defensive coordinator Kris Richard, who took a defensive passing-game coordinator coaching job with the Dallas Cowboys.
Indianapolis now has coaching and quarterback questions. On Sunday, ESPN's Chris Mortensen reported there still are concerns about Andrew Luck's shoulder and whether he could wind up needing additional surgery.
The Colts now will have to go back to the drawing board while the Patriots have some of the coaching stability they appeared to be losing. The situation is not entirely dissimilar to Bill Belichick stepping away from the New York Jets' head coaching job, but he did that the day of the press conference. McDaniels has done this the night before he was scheduled to be introduced. But he was not comfortable making the jump, neither for him nor his family.
ESPN
Image BSO Twitter
Mentioned In This Post:
About the author