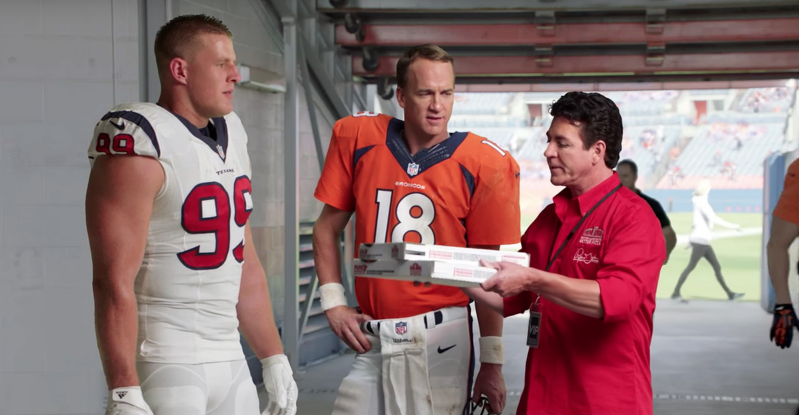 Papa John's Can't Sell Pizza, Blames The NFL
02 Nov, 2017
Papa John's, the official pizza of the NFL, and one of the league's major sponsors says poor leadership over the player protests are hurting its sales.
Players have been protesting during and before the anthem this season to highlight social and racial injustice in the United States. Papa John's has pulled many of its ads around NFL games and says sales estimates for the next quarter are being revised downwards.
"The NFL has hurt us," the Papa John's founder and CEO, John Schnatter, said. "We are disappointed the NFL and its leadership did not resolve this."
The protest movement started last season when Colin Kaepernick knelt for the anthem. Schnatter implied the NFL should have dealt with the matter then when he said the issue could have been "nipped in the bud" 18 months ago. Kaepernick has not been picked up by a team since leaving the San Francisco 49ers last season and has filed a grievance alleging NFL team owners have colluded to keep him out of the league.
TV ratings are down for the league this year, although it not clear whether that is directly linked with the protests as television figures have fallen across America, including for sports such as Nascar, which has not featured any protest movement.
Players, team owners and the league have met to discuss the issue although no satisfactory agreement has been reached. "Leadership starts at the top, and this is an example of poor leadership," Schnatter, who appears in his company's ads alongside Peyton Manning, said of the NFL's attempts to address the issue.
As of Wednesday, Papa John's stock is down 8.5%. In 2012, Schnatter said the Affordable Care Act would raise pizza prices and saw the company's stock fall by 4%. He also donated to Donald Trump's presidential campaign. The president has been a vocal critic of the NFL protests and called any player who kneels during the anthem a "son of a bitch".
The protest movement has highlighted the divisions that run through American society. Surveys have shown the majority of whites oppose the protests, while African Americans generally support them. Some team owners are starting to express concerns as fears emerge the NFL's bottom line is being hit. The Dallas Cowboys owner, Jerry Jones, said he would bench any players kneeling during the anthem. Houston Texans players staged a protest against their team's owner, Bob McNair, after he said "we can't have the inmates running the prison" in reference to the protest movement.
The Guardian
Image Yahoo Sports twitter
Mentioned In This Post:
About the author