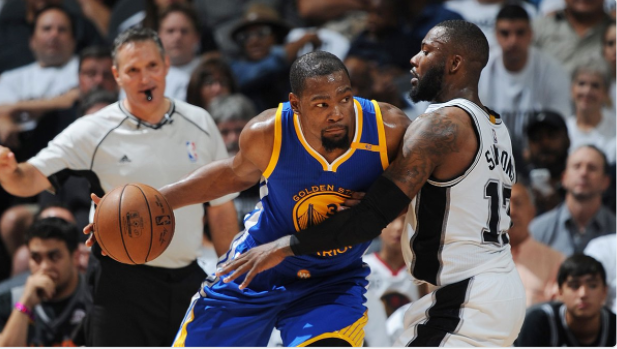 Quit Playing and Just Start The Finals Now!
21 May, 2017
The Spurs gave a valiant effort, but they wore down in the fourth quarter without All-Star Kawhi Leonard.
Kevin Durant's game-high 33 points and 10 rebounds guided the Golden State Warriors to a critical 3-0 series lead in the Western Conference finals, following a 120-108 victory on Saturday night at the AT&T Center.
Stephen Curry contributed 21 points and three 3-pointers. After knocking down a trey early in the contest, Curry became the Warriors' all-time postseason scoring leader, surpassing Hall of Famer Rick Barry's 1,776 points. Curry now has 1,795 career postseason points, all with Golden State.
Klay Thompson finally found his stroke, producing 17 points on 7-of-15 from the floor and 3-of-6 from deep. (Thompson had a total of 17 points on 6 of 21 shooting in the first two games of this series.) Draymond Green added 10 points, seven points, seven assists and two blocks.
All five of the Warriors' starting five scored in double figures.
Golden State started JaVale McGee at center, with Zaza Pachulia still nursing a sore heel, and McGee didn't disappoint. He scored 11 of his 16 points in the game's first seven minutes.
McGee's first-half play kept the Warriors from trailing by double digits. His teammates found him for lobs and easy assists around the basket.
The Spurs went with a starting lineup of Patty Mills, Jonathon Simmons, Kyle Anderson, Danny Green and LaMarcus Aldridge. It was the first time this season that those five players had started together.
Spurs head coach Gregg Popovich announced on the morning of the game that Leonard would not be a go, but not everyone believed him.
Aldridge needed to step up in the absence of Leonard. Although he played better, his 18 points on 7 of 17 shooting and five boards were not nearly enough.
Ginobili scored 21 points off the bench, the most points he has scored in his past 40 playoff games.
ESPN
Image Warriors twitter
Mentioned In This Post:
About the author