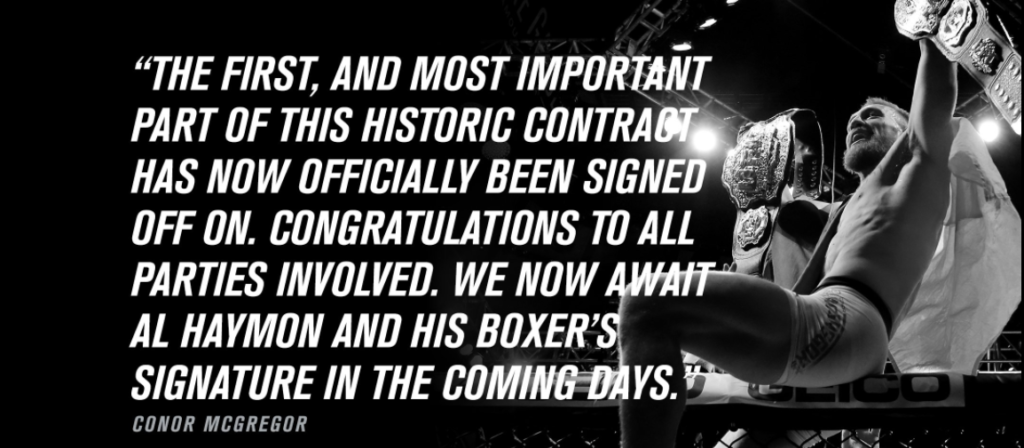 Ready To Rumble??
18 May, 2017
Mixed martial arts champion Conor McGregor claims he has agreed a deal to fight Floyd Mayweather in the boxing ring.
McGregor, who currently holds the UFC lightweight title, has concluded his side of the negotiation process and hopes Mayweather will sign the deal "in the coming days" after months of speculation linking the two multi-division champions first came to prominence in May of last year.
In a statement issued to TheMacLife.com, the Irishman said: "It is an honour to sign this record breaking deal alongside my partners Zuffa LLC, The Ultimate Fighting Championship and Paradigm Sports Management.
"The first, and most important, part of this historic contract has now officially been signed off on. Congratulations to all parties involved. We now await Al Haymon and his boxer's signature in the coming days."
Mayweather retired from boxing in September 2015 after equalling Rocky Marciano's unbeaten record of 49-0 following a unanimous decision victory over Andre Berto, and has been involved in a war of words with McGregor on social media since retirement.
On Wednesday the UFC president, Dana White, revealed on TNT's live broadcast of the NBA Eastern Conference finals between the Boston Celtics and Cleveland Cavaliers that negotiations with McGregor had been completed for the potential blockbuster fight, which could take place later this year.
"The McGregor side is done," White told TNT. "I'm starting to work on the Mayweather side now.
"I'm not saying the fight will happen, but I've got one side done, now it's time to work on the other. If we can come to a deal with Haymon and Mayweather, the fight's going to happen."
The Guardian
Image btsportufc twitter
Mentioned In This Post:
About the author