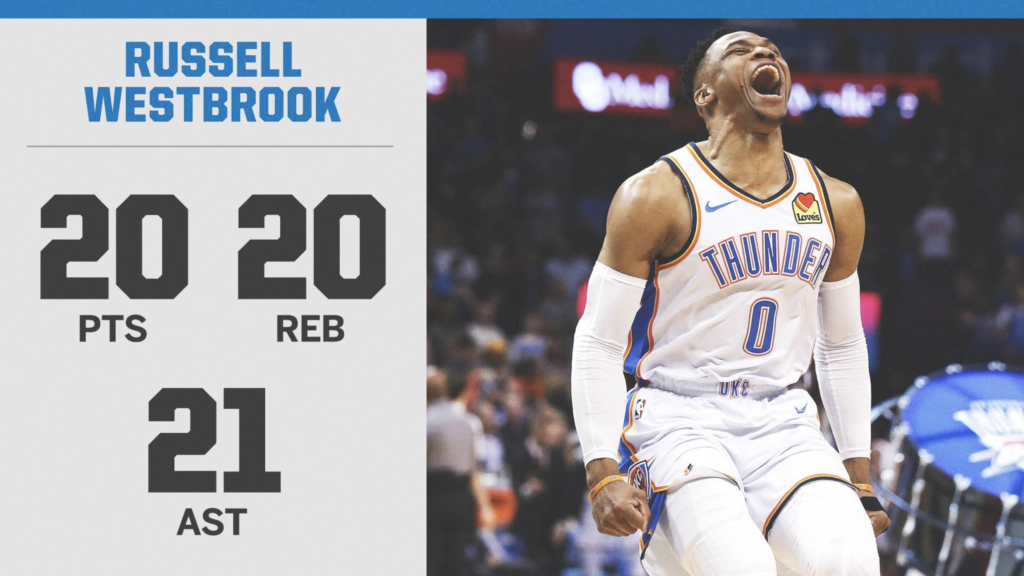 Russell Westbrook is Beyond Amazing!
03 Apr, 2019
Oklahoma City's Russell Westbrook is no stranger to ridiculous statistical lines.
Indeed, we've become so accustomed to his jaw-dropping performances that there's been virtually zero fanfare for the fact that he's all but assured of averaging a triple-double for a third straight season.
But the Thunder superstar outdid himself Tuesday in a 119-103 victory over the Lakers, joining Wilt Chamberlain as the only players in NBA history to reach or surpass 20 points, 20 rebounds and 20 assists in a single game.
Chamberlain set the gold standard for NBA triple-doubles in 1968, piling up 22 points, 25 rebounds and 21 assists against the Pistons in what had for decades seemed to be one of his most unassailable feats, right up with his 50.4-point season and legendary 100-point game.
But despite an off shooting night that resulted in a scoreless first quarter, Westbrook followed suit with 20 points, 20 rebounds and 21 assists, pulling down one last board with 41 seconds remaining to check the final box.
"Overwhelming," he said. "I'm humbled. I'm just thankful to be able to compete at a high level and play the game I love."
Said teammate Paul George, "It's just epic. Man. The heart of that guy, honestly, is what's so amazing about it."
Westbrook's feat couldn't have come at a better time for him or his team. Not only were the Thunder, who had lost 13 of 20 games since the All-Star break, in desperate need of a victory, it came just days after Westbrook's friend, hip-hop artist and fellow Los Angeles native Nipsey Hussle, was murdered outside his clothing store in L.A.
"That wasn't for me, that was for my bro — 20 plus 20 plus 20," Westbrook said. "Rest in peace, Nipsey."
To put Westbrook's achievement into further perspective, there had only been 45 games of even 15/15/15 in NBA history entering Tuesday's action, including seven by him.
And quadruple-doubles, as exceptionally rare as they are, have still been achieved four times, by Nate Thurmond (1974), Alvin Robertson (1986), Hakeem Olajuwon (1990) and David Robinson (1994).
Westbrook laid the foundation with a unique first quarter in which he failed to score but pulled down seven boards and dished out 10 assists. The latter total was notable (if esoteric) in and of itself, making Westbrook just the fifth player over the past 20 years with multiple double-digit assist quarters.
That would have been the highlight of Westbrook's night in most other games. But as his scoring touch came around to match his additional production, it became apparent that something truly special was brewing.
Westbrook might have been the last to realize as he didn't appear to be actively pursuing the feat until the final few minutes, when he began camping under the baskets in pursuit of boards.

And with a feat of such singular significance within his grasp, who could really blame him? Certainly not his fellow players, who were every bit as dumbstruck as anyone else who watched it unfold.
On the macro level, Westbrook continues to climb up the career triple-double list, with his 135 standing just three behind Magic Johnson in second place. Should he maintain his torrid pace in recent seasons, in which he's averaged roughly 33 triple-doubles over the past three campaigns, Westbrook will have a shot at yet another seemingly untouchable mark, Oscar Robertson's record of 181.
No matter where he ends up on the list, it's unthinkable to imagine any of his future triple-doubles will match, let alone surpass, what Westbrook did Tuesday.
Then again, Russ has proven to be quite adept at doing the seemingly impossible.
NBA.com
Image Sportscenter twitter
Mentioned In This Post:
About the author