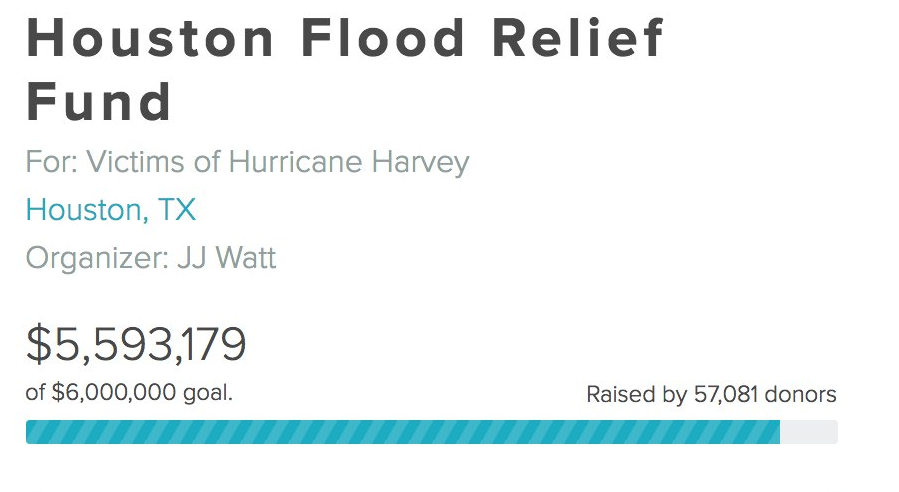 $5.1 MILLION!

New Goal: $6 Millionhttps://t.co/SR6DmnNbyM pic.twitter.com/0Vfd3XMnDe

— JJ Watt (@JJWatt) August 30, 2017
Salute JJ Watt! $5Mil and Going Strong
30 Aug, 2017
Unable to return to Houston because of flooding caused by Harvey and frustrated at his inability to help, J.J. Watt opened a modest little online fundraising campaign Sunday afternoon from the Houston Texans' temporary digs in Dallas.
With a Youcaring account, a video plea and a pledge of $100,000 of his own money, the Texans' star defensive end started something that is making him the face of relief efforts in Houston. By late morning Tuesday, his effort, goosed along by increased goals each time a new level was attained, had topped $1.5 million. So he raised it to $2 million, and then $3 million, $4 million, $5 million as each goal was surpassed.
And Wednesday morning, he set his sights on $6 million as donations large and small keep rolling in. "It's rising by the minute," Watt said in a video Wednesday morning. "Every time you refresh the link, it keeps going up and up and up." As Watt put it in an earlier video update: "Who knows where we can take this?"
Watt's fund raising efforts received a huge boost Tuesday afternoon, when Tennessee Titans owner Amy Adams Strunk donated $1 million, which pushed the fund past $3.25 million, according to Watt. He raised more than $750,000 more in a matter of hours to top $4 million and, by dawn Wednesday, he was closing in on $5.1 million from nearly 51,000 donors.
"Really can't even put into words a thank you for the Tennessee Titans organization. Mrs. Amy Adams Strunk, a million dollar donation," Watt said of the Titans, who formerly were the Houston Oilers, in a Twitter video posted Tuesday afternoon. "That's from a team in our division, one of our rivals. But stepping up for the greater good of the people, I cannot thank you enough."
Watt cashed in on his position as one of the NFL's most popular and charismatic stars for the cause, capitalizing on his extraordinary reach to 2.7 million Instagram followers and nearly 4 million on Twitter. In addition, he has asked for donations in interviews with CNN, CNN International and "CBS This Morning." And he hopes that somehow the team's preseason finale against the Cowboys in Dallas is turned into a fundraiser.
"There are much bigger things than football going on," he said in a Weather Channel interview, "and I think people understand that and want to support [the victims] … as soon as we get back to Houston we all want to help out in whatever way we can."
Washington Post
JJ Watt Twitter
Mentioned In This Post:
About the author