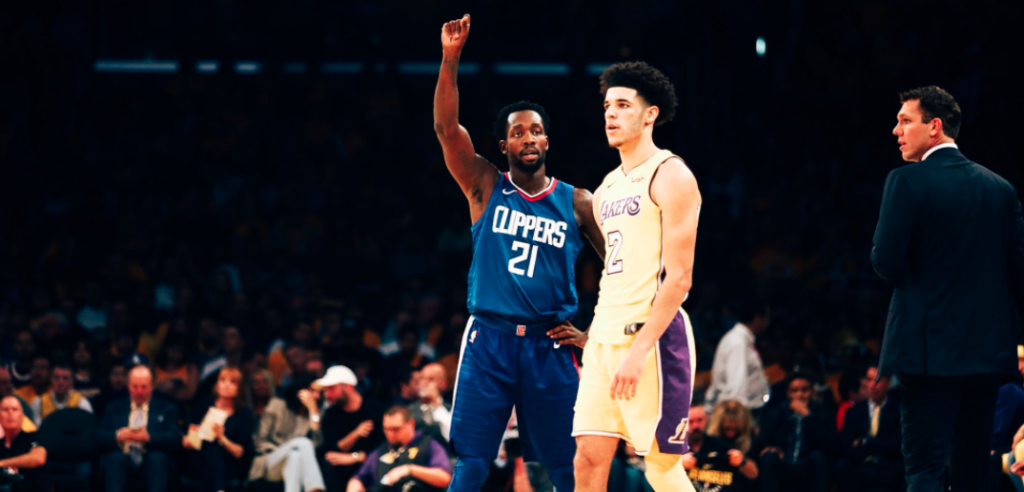 Sorry Lonzo, This is A Grown Mans Game
20 Oct, 2017
In the wake of the Clippers' rout of Lonzo Ball and his Lakers on Thursday night at Staples Center, a 108-92 decision in which the uber-hyped rookie had just three points, nine rebounds and four assists, there was an unofficial poll taken among media members who cover the NBA on a day-to-day basis.
The question: If you were Ball, which point guard would you least like to face in your professional debut?
The answer: The very man who spent 24 minutes bullying him into a rough debut, resident pest Patrick Beverley.
The 29-year-old Beverley is nothing if not fiery, an underdog sort whose path was the polar opposite of Ball's and whose relentless defense is as good as any. He had to play in Greece and Russia before finally sticking in the NBA, then played his way into relevancy by sheer force of will three years after he was drafted out of Arkansas in the second round by, of all teams, the Lakers. Add in the fact that this was his Clippers debut, with Beverley having been shipped this way via trade from the Houston Rockets as part of the Chris Paul deal in late June, and his motivation meter was surely off the charts.
Especially considering his view of Ball and the controversial way his father, LaVar, has handled his image.
All through LaVar's bold proclamations, from him saying that Lonzo is better than two-time MVP Steph Curry to the many others, there was a sense in NBA circles that the hen would eventually come home to roost. And while it all came to fruition in the opener, there's this harsh reality for Ball going forward: There's plenty more where this came from.
"I just had to set the tone, man," Beverley explained. "I told him after the game man, (that) due to all riff-raff his dad brings, he's going to get a lot of people coming at him. He has to be ready for that, and I let him know after the game. What a better way to start off, just 94 feet guarding him tonight, welcome …"
A reporter accidentally interrupted.
"I'm not done," Beverley interjected. "Welcome his little, young ass to the NBA."
USA Today
Image Clippers twitter
Mentioned In This Post:
About the author