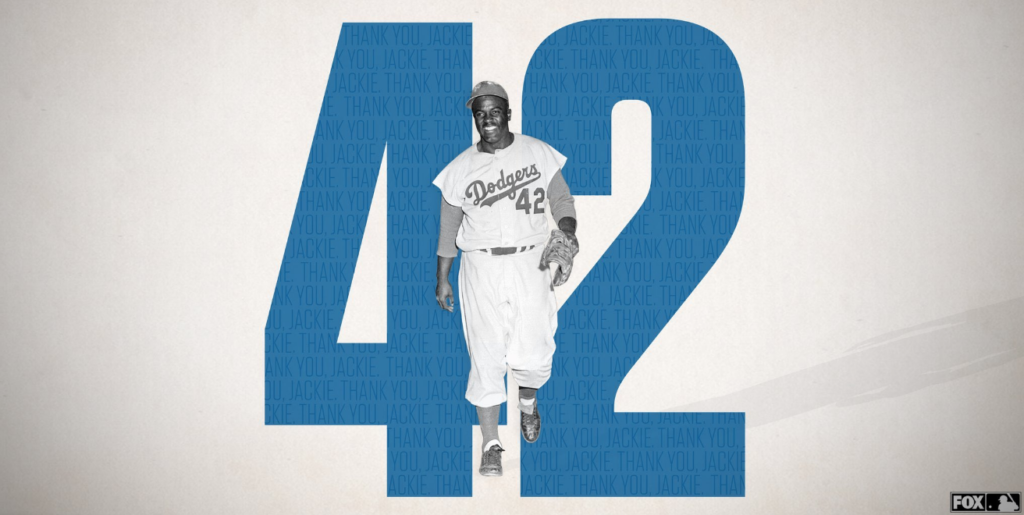 Thank you Jackie!
15 Apr, 2018
Sunday marked the 71st anniversary of Jackie Robinson breaking Major League Baseball's color barrier, and for the 10th straight season, players throughout the game donned Robinson's iconic No. 42. At Citi Field, steps from where fans passed through the Ebbets Field-inspired Jackie Robinson Rotunda on the way to their seats, bearers of '42' included Brewers left-hander Brent Suter, who grew up a white kid in suburban Cincinnati but said he participated proudly because, "he wasn't just an impetus for change for baseball, but society as a whole."
For Sharon Robinson, Jackie's daughter and an educational consultant for MLB, it was also personal.
"It gives us a chance to reflect on our time with Dad," she said. "Yesterday, I reminded [her brother] David about when my dad brought home Dr. [Martin Luther] King's letter from a Birmingham jail and suggested that we read it, and we would discuss it. I was 13 and David was 11. What did he expect?
"Obviously, we couldn't interpret it all. So David and I got into a discussion of, 'Do they have paper in jail?'"
She paused to laugh.
"So, it gives us a chance to remember our favorite moments with him," Robinson said.
For the rest of baseball, it was a chance to remember a giant of the sport and to raise funds for the Jackie Robinson Foundation. In addition to wearing Robinson's retired No. 42, there were additional on-field uniform elements for 2018, including a commemorative patch on all team caps and jersey sleeves, socks emblazoned with '42,' and a new lightweight hooded fleece for batting practice and dugout wear, also featuring the '42' logo.
MLB will donate all proceeds from the sale of such items to the foundation. The Jackie Robinson Foundation (JRF) is a public, non-profit organization that perpetuates Robinson's memory by giving a four-year scholarship in his name and providing leadership development for minority college students as well as through building the Jackie Robinson Museum. The museum will commemorate the life of Jackie Robinson as an athlete, activist and icon, illuminating his long-lasting impact across society through state-of-the-art exhibits, precious artifacts, film and other media. The National Jackie Robinson Museum Legacy Campaign has raised over $25 million and the museum is set to open in 2019.
The Major League Baseball Players Association announced a $42,000 grant from the Players Trust to the JRF for the third straight year.
"To pay homage to that man, it's an honor," Brewers first baseman Eric Thames said.
Thames is one of Milwaukee's three African American players, with outfielder Lorenzo Cain and reliever Jeremy Jeffress, who were among the 68 African Americans on Major League rosters for Opening Day. That was up slightly from 62 African American players at the start of 2017, according to MLB's annual report on diversity in the game.
"Actually, I'm encouraged," Robinson said. "Not just by the uptick, but from the fact we are seeing some of the programs producing players that are going into the Draft from our academies and our RBI [Reviving Baseball in Inner Cities] Program. … Commissioner [Rob] Manfred and the whole MLB family is so committed to young people, and bringing baseball back to our suburban areas as well as our urban areas. I think that is going to have a positive impact on baseball in general."
Robinson also mentioned the globalization of the game, and pointed out that her father's legacy wasn't simply in breaking a barrier for African Americans but for the many Latin American players who have come to the Major Leagues.
"I've heard a lot about him," said Mets infielder and Venezuelan Wilmer Flores, whose walk-off home run gave the Mets a 3-2 win on Sunday.
"When Curtis Granderson was here, he talked to us about Jackie Robinson. He's immortal. You've definitely got to appreciate those who gave us this opportunity. Today was a special day."
Fourteen years after the first Jackie Robinson Day in 2004, Sharon Robinson is convinced the initiative still has impact.
"Each year, you see the clubs doing something slightly different," Robinson said. "I know Miami wanted to acknowledge Parkland. So the issues are there, and the issues are complicated. They can look at social justice issues, equity issues, whatever they choose, and link it in to Jackie Robinson Day to make it contemporary."
MLB.com
Image Fox Sports twitter
Mentioned In This Post:
About the author