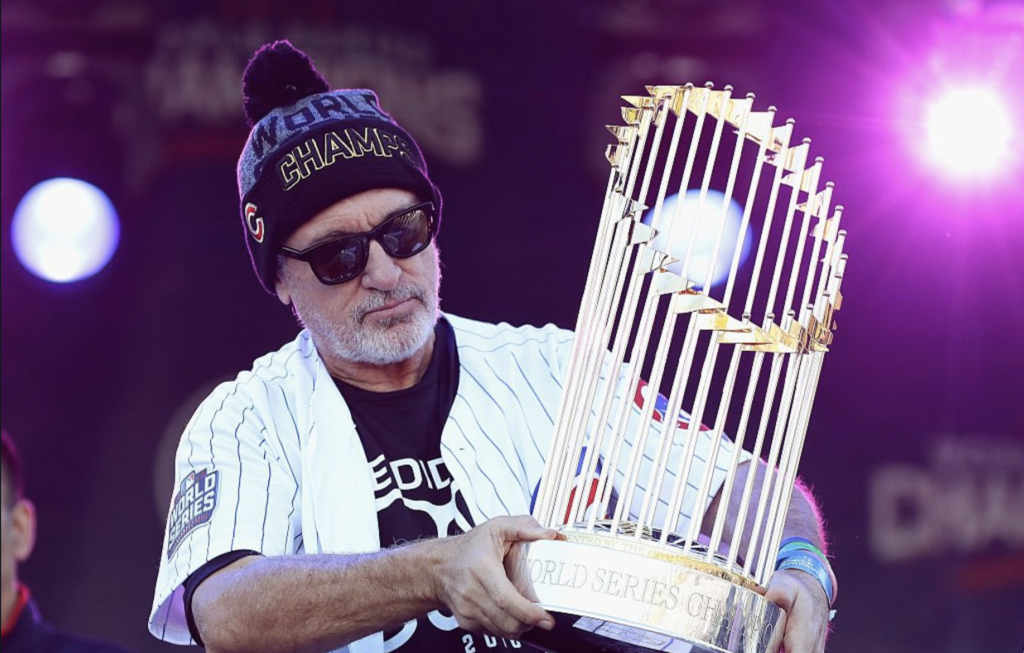 Thank You Joe!
29 Sep, 2019
It took the Chicago Cubs 108 years to win their most recent championship. It took them less than three years to dismiss the manager who led them there.
Joe Maddon, who guided the Cubs to their long-awaited World Series title in 2016, will not return as manager next season, the team announced on Sunday in St. Louis. Theo Epstein, the Cubs' president of baseball operations, made the announcement in an informal news conference with Maddon before the Cubs' final game of the season at Busch Stadium.
"We both agreed that it's time and that this type of change is a win-win," Epstein told reporters, adding of Maddon: "There's going to be a bidding war for his services, and there should be. He's in a great position."
Maddon, 65, said he hoped to manage three to five more seasons, which makes him a high-profile free agent for several managerial vacancies. The Kansas City Royals, the Pittsburgh Pirates, the San Diego Padres and the San Francisco Giants will all have new managers next season, and other teams — including the Mets and the Philadelphia Phillies — might also make a change.
The Pirates announced the firing of Clint Hurdle on Sunday, the Padres fired Andy Green on Sept. 21 and Royals Manager Ned Yost and Giants Manager Bruce Bochy are retiring.
Maddon has reached the postseason eight times as a manager, four with the Tampa Bay Rays and in each of the last four seasons with the Cubs. But this year's Cubs team ended the season at 84-78, with 16 losses in its 27 games this month. The Cubs will miss the playoffs for the first time since 2014, the year before Maddon's celebrated arrival.
"We're both going to move on, the Cubs are going to flourish, hopefully I get a chance to do this somewhere else, but there's no tears shed," Maddon said. "It's a good moment for everybody, and we're both excited about our futures."
Epstein has been discouraged by the Cubs' failure to build off their 2016 championship, believing that the roster — despite a strong core of young position players and solid veteran starters — has somehow been less than the sum of its parts.
Maddon also earned $6 million per year, matching Bochy for the highest manager's salary in an era in which most managers are being paid less and less.
Epstein could follow the industry trend of hiring a former player with no managing experience, such as the Cubs bench coach and longtime major league infielder Mark Loretta or the special assistant David Ross, a popular former catcher who also works for ESPN. Another intriguing name for the Cubs could be the MLB Network broadcaster Joe Girardi, a former Cubs catcher who led the Yankees to the 2009 World Series title and is eager to resume his managing career.
"I think we're at a point where we just need a little bit of change and something new, and that's natural," Epstein said. "That's the natural way of change, and if you embrace it the right way, it's good for all of us."
Epstein said he invited Maddon to his hotel room after Saturday's game, and the two spent 40 minutes celebrating their successes and sharing a bottle of wine.
"Several," Maddon added.
Maddon is well known for his irreverent style; he has brought magicians and zoo animals into the clubhouse, de-emphasizes the busywork of batting practice and peppers his news conferences with pop-culture references. Just the other night, after a crucial home run by the light-hitting Robel Garcia, he cued up a "Seinfeld" clip on his laptop and sang "Robel! Robel!" — like "Rochelle! Rochelle!," a fictional movie on the show.
But while Maddon embraces modern analytics, his roots run deep in the game. A former Class A catcher in the 1970s, he spent 13 seasons as a minor league manager and coach in the Angels' organization, and then another 12 as a coach for the major league team.
In 2003, Epstein interviewed him for the Boston Red Sox' managerial opening that ultimately went to Terry Francona. Maddon finally got his chance with Tampa Bay in 2006, and turned a perennial loser into an American League champion in his third season.
When the Cubs hired him in November 2014, the franchise had staggered through five consecutive fifth-place finishes in the National League Central. But the team had several emerging young players, and the hiring of Maddon signaled a new direction.
One of those cornerstone players, first baseman Anthony Rizzo, told reporters that Maddon had let the players know before Sunday.
"He's a living legend in the game; he's a bridge from the old to the new," Rizzo said, adding later: "Joe's changed my life, changed my career. I love him like a dad."
Rizzo made the final putout of Game 7 in the 2016 World Series, a cathartic moment for a luckless organization and its legion of fans. But the victory did not herald a dynasty; the Cubs lost in the N.L. Championship Series in 2017, then lost the N.L. wild-card game last fall before this season's letdown.
Still, starter Jon Lester said, Maddon will leave a powerful legacy in Chicago.
"He did what we all came here to do, what Theo built this team to do," Lester told reporters. "We won a World Series. After 108 years, we won a World Series. So Joe should be revered as a legend here. He's probably one of the greatest, if not the greatest manager, in Cubs history."
NY Times
Image Cubs_live twitter
Mentioned In This Post:
About the author