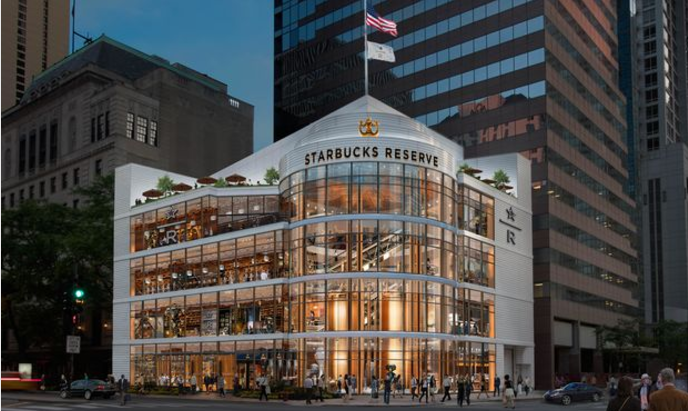 That's A Whole Lotta Coffee!
26 Apr, 2017
Starbucks plans to open a four-level Roastery flagship on Michigan Avenue, its largest space yet for the high-end concept that the coffee giant is rolling out around the world.
Executive Chairman Howard Schultz said the company plans to bring its Starbucks Reserve Roastery showplace to the current Crate & Barrel building at Michigan Avenue and Erie Street in 2019.
The Roastery is an interactive format where customers can see rare, small-batch Reserve beans roasted, brewed and packaged.
"It's not a coffee store, the essence of it is the theater and romance and something so experiential," Schultz said. Schultz first had the idea for the Roastery stores in August 2009, when he wrote about a plan to create "the Willy Wonka of coffee." Schultz recorded that idea and others in a journal he kept about his plans for the chain.
The Tribune first reported plans for the Chicago flagship on April 17.
Starbucks' confirmation of the Magnificent Mile showplace comes 30 years after Starbucks opened its first coffee shop outside the Seattle area in Chicago at 111 W. Jackson Blvd.
"It was so vitally important, because if Chicago didn't succeed I doubt we would have been able to build a global brand like we did," he said.
At 43,000 square feet, Chicago's is the largest among six Roastery emporiums that Starbucks has announced. The size will eclipse a planned 30,000-square-foot space in China, which had been the largest one announced to date.
It will be the third Roastery in the United States, following one that opened in Starbucks' hometown of Seattle in December 2014 and another expected to open in New York in 2018. Roastery stores are set to open in Shanghai this year and in Milan and Tokyo in 2018, the company said.
Schultz said the Roastery will be a multi-million dollar investment. "These are big bets," he said. "But as a company we're not building for next year but the next 50 years."
Chicago's Roastery will feature interactive tours, multiple brewing methods and specialty Reserve drinks. In addition to selling Reserve drinks and beans, all Roastery locations will feature foods such as artisan breads from Italian baker Rocco Princi.
In addition to the massive Roastery, Starbucks also is introducing its Reserve brand in other Chicago-area shops. That includes plans to open its first Reserve-only store in Chicago at 1000 W. Randolph St. as early as 2018, according to the company.
The Reserve stores have a traditional Starbucks menu, like basic brewed coffee, but also bring in some aspects of the Roastery like a coffee bar featuring the company's small-lot Reserve coffees. Reserve stores also offer different brewing methods as well as Nitro Cold Brew taps and specialty beverages unique to the higher-end stores.
Starbucks said it eventually plans to have 20 to 30 Roastery flagships globally, and as many as 1,000 Reserve stores.
Currently there are 20 U.S. Starbucks stores with Reserve bars, including three in Chicago and one in Lake Forest.
Chicago Tribune 
Image Starbucks
Mentioned In This Post:
About the author