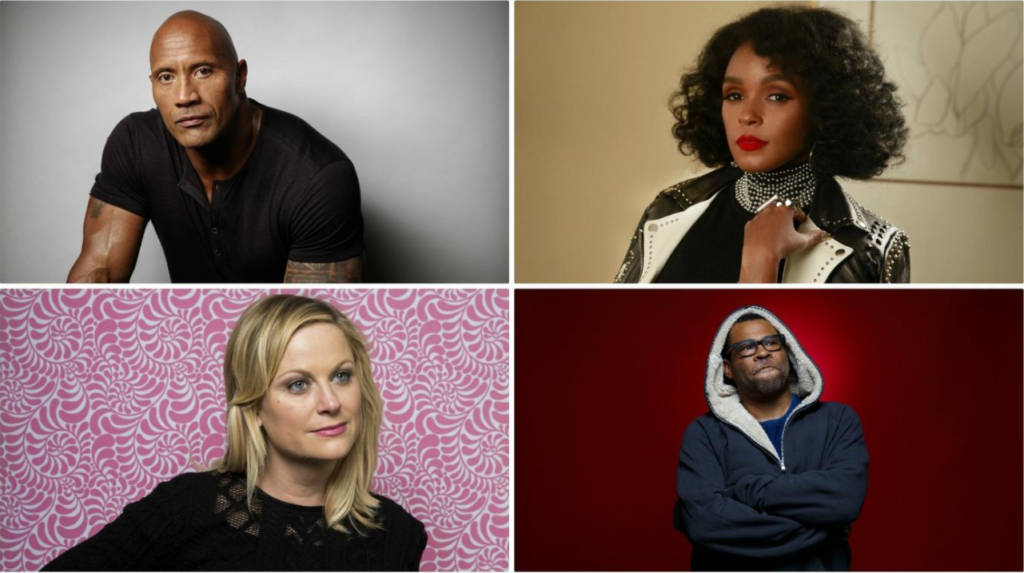 The Academy Awards Are Pushing For More Diversity
28 Jun, 2017
The Academy of Motion Picture Arts and Sciences has issued 774 invitations to new members, the Oscar-granting body announced Wednesday.
That number is more than the record 683 invitationsthat were issued in 2016 and well above the 322 invites that went out in 2015 as the Academy has made a concerted effort to diversify its membership ranks by bringing in more women, people of color and filmmakers from around the world.
The invitees to the acting branch alone — which numbered a whopping 105 — reflect the diversity the Academy has been pursuing. They include Avengers headliners like Chris Evans and Chris Hemsworth; Star Wars stalwarts like Adam Driver, Riz Ahmed, Domhnall Gleeson and Warwick David; box-office stars like Dwayne Johnson, Kristen Stewart and the newly crowned Wonder Woman Gal Gadot; Guardians of the Galaxy's Chris Pratt; comic performers like Leslie Jones, Keegan-Michael Key and Wanda Sykes; recent Oscar nominees like Viggo Mortensen, Naomie Harris and Ruth Negga; and even veteran show-biz legend Betty White, who, at the age of 95, is the oldest of the new invitees. The youngest invitee is Elle Fanning, at the age of 19.
The Academy reported that the list, which represents talent from 57 countries, is 39 percent female and 30 percent people of color. Seven of the Academy branches — actors, casting directors, costume designers, documentary, executives and film editors — invited more women then men.
Justin Timberlake, who brought down the house with his rousing opening performance of "Can't Stop the Feeling" from Trolls during February's Oscar broadcast, was also invited to join the club, as were Hamilton creator Lin-Manuel Miranda, an Oscar nominee for his song "How Far I'll Go" from Moana and singer-songwriter Nick Cave (Hell or High Water).
Prominent among those invited to join the executives branch are Shari Redstone, vice chair of the board of directors of both Viacom and CBS; IM Global founder Stuart Ford; and FilmNation founder Glen Basner.
The directors branch — which invited 64 new members — welcomed best picture Oscar winner Moonlight's Barry Jenkins (who was also invited to join the writers branch), Lion's Garth Davis, Nocturnal Animals' Tom Ford and The Dressmaker's Jocelyn Moorehouse, as well as German helmer Fatih Akin (In the Fade), Chilean-born Alejandro Jodorowsky (El Topo), South Korea's Kim Ki-duk (3-Iron) and Hong Kong filmmaker Johnny To (Election). Jordan Peele (who was also invited by the writers) got tapped on the strength of his breakout hit Get Out. And brothers Anthony Russo and Joseph Russo (Captain America: Civil War) got a matching set of invites.
They weren't the only family members who were so recognized. Among the actors, Pratt and his wife Anna Faris (Brokeback Mountain) both got invites, as was the case for two other married couples: actors Carina Lua (Infernal Affairs 2) and Tony Leung (The Grandmaster), and Moonlight producer Adele Romanski and that film's cinematographer James Laxton. There were also a pair of sisters: Debbie Allen and Phylicia Rashad, both invited by the actors branch. And there was even a father and daughter-in-law: Indian actors Amitabh Bacchan (The Great Gatsby) and Aishwarya Rai Bacchan (Jodhaa Akbar).
In addition to Jenkins, Romanski, Laxton and Harris, other members of the Moonlight team who secured invitations included actress Janelle Monae, film editor Nat Sanders and composer Nicholas Britell. La La Land, Moonlight's main competition at this year's Oscars, was also well-represented. While director Damien Chazelle was invited to join the Academy in 2015, others behind the hit musical who were invited this year include Oscar-winning composer Justin Hurwitz and the winning songwriting team of Benj Pasek and Justin Paul, cinematography Oscar winner Linus Sandgren, production design Oscar winner David Wasco, sound mixer Steve A. Morrow and producers Fred Berger and Jordan Horowitz.
Those invited to join the documentary branch include Ezra Edelman, Oscar winner for O.J.: Made in America; recent nominees Gianfranco Rosi (Fire at Sea), Dan Krauss (Extremis) and the White Helmetsteam of Orlando von Einsidel and Joanna Natasegara; and veteran 94-year-old filmmaker Jonas Mekas.
The Hollywood Reporter
Image Chicago Tribune 
Mentioned In This Post:
About the author