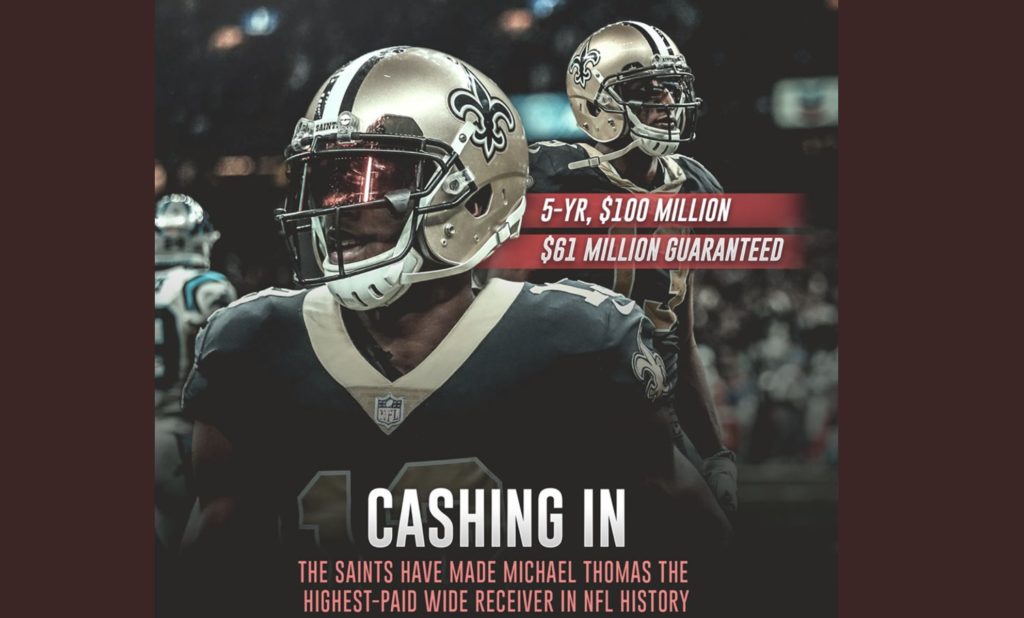 The NFL's New $100M Man
31 Jul, 2019
Michael Thomas has reached agreement with the New Orleans Saints on a five-year, $100 million extension that includes $61 million guaranteed and makes him the NFL's highest-paid wide receiver, league sources told ESPN's Adam Schefter on Wednesday.
Thomas is now tied to the Saints for the next six years, through the 2024 season.
Thomas is set to make $1.148 million this season in the final year of his rookie contract. He did not report for the start of Saints training camp as he sought a new deal.
Thomas was one of several high-profile players holding out from training camp, including Los Angeles Chargers and Dallas Cowboys running backs Melvin Gordon and Ezekiel Elliott, Washington Redskins offensive tackle Trent Williams and Jacksonville Jaguars defensive end Yannick Ngakoue.
Ngakoue noticed news of Thomas' deal and tweeted "well deserved."
Thomas could become the first in a very expensive set of dominoes to fall, with fellow top receivers like Julio Jones, Amari Cooper, A.J. Green and Tyreek Hill also seeking extensions. There was some sense that none of those receivers wanted to sign first, so the others could raise the bar for them. But no one stood to gain more than the 26-year-old Thomas.
ESPN
Image ClutchPointsNFL twitter
Mentioned In This Post:
About the author