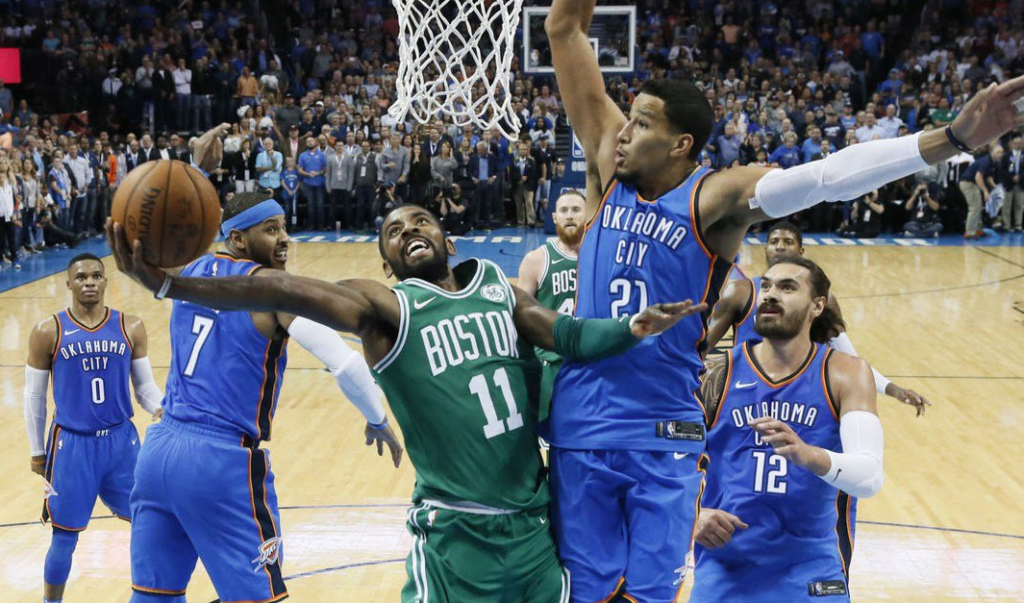 The Real Beast of The East!
14 Nov, 2017
'It's definitely an incredible streak we're on, and now comes the whole media frenzy of will the streak end, and what's going to happen on Thursday and the Golden State Warriors coming to Boston," Irving said. "So I'm looking forward to all that hoopla."
Irving returned to the lineup and scored 25 points while wearing the mask, and the Celtics beat the Brooklyn Nets 109-102 on Tuesday night to remain unbeaten since an 0-2 start.
Marcus Morris added 21 points and 10 rebounds, and Jayson Tatum scored 19 points for the Celtics, who have the NBA's best record. Golden State is next at 11-3, and Boston got good preparation for the game against a persistent Brooklyn team.
"The way that they converted on us in transition after our mistakes tonight, you can't have that against Golden State. You just get blown out of the gym," Celtics coach Brad Stevens said. "We just have to play really solid on both ends and do what we do as well as we can and see where we stand."
Irving missed one game with a minor facial fracture after he was hit by teammate Aron Baynes on Friday. He fiddled with the mask frequently, but it didn't seem to affect his play much. He made a jumper with 3:40 left after the Nets had closed within four points and drove for another basket about 35 seconds later.
"Today, just finding his way and doing what he does, making big plays for us, coming through and sealing the game," said Celtics center Al Horford, who had 17 points and 11 rebounds.
Boston then finally put it away with Jaylen Brown's alley-oop feed to Tatum before Irving hit two free throws to make it 106-96.
Joe Harris scored 19 points and Rondae Hollis-Jefferson had 16 points and nine rebounds for the Nets, who are without leading scorer D'Angelo Russell because of a bruised left knee. Allen Crabbe and Caris LeVert added 15 points apiece.
Irving has had to play in a mask before, and he's done it well. He scored a then career-high 41 points in a loss at New York on Dec. 15, 2012, while with Cleveland. But he described it like having foggy blinders, restricting his peripheral vision.
The Celtics started 7 of 9 from the field to lead 17-4, but the Nets jumped ahead in the second quarter and countered every time Boston threated to pull away until the final minutes.
"I thought guys competed," Nets coach Kenny Atkinson said. "We just have to do it in long stretches."
NBA.com
Image CelticsLife twitter
Mentioned In This Post:
About the author