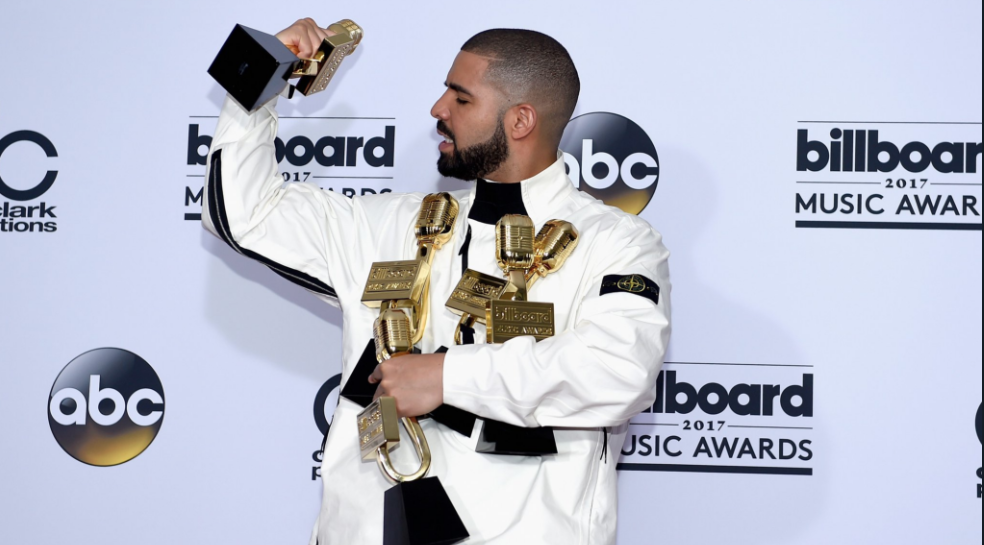 The Six god Keeps Stacking up the Wins
09 Jul, 2018
Drake dominates the Billboard Hot 100 chart (dated July 14) in record-breaking fashion, as his new LP Scorpion launches at No. 1 on the Billboard 200 albums chart with the biggest week of consumption for an album in 2018. Atop the Hot 100, the set's "Nice for What" rebounds from No. 6 to No. 1 for an eighth total week at the summit.
Among Drake's record feats on the Hot 100, he boasts seven songs in the top 10 simultaneously, besting the Beatles' record of five that had stood since 1964. (The Beatles remain the only act to monopolize the Hot 100's entire top five in a week.) Drake adds five new Hot 100 top 10s, upping his career count to 31, passing Michael Jackson for the most among male soloists; one of those new top 10s, "Don't Matter to Me," features Jackson, who earns his 30th top 10.
Beyond the top 10, Drake charts 27 songs overall on the July 14-dated Hot 100, breaking his own record for the most simultaneously charted titles. All 25 tracks from Scorpion, released on Young Money/Cash Money/Republic Records, appear on the chart.
Let's run down Drake's numerous achievements and the top 10 on the newest Hot 100, which blends all-genre streaming, radio airplay and digital sales data. All charts will update on Billboard.com.
Record-breaking seven simultaneous top 10s: Here's a look at all seven of Drake's songs in the Hot 100's top 10 on the July 14-dated chart, five of which reach the region for the first time:
Rank this week, Title (Rank last week)
No. 1, "Nice for What" (No. 6; eighth week at No. 1)
No. 2, "Nonstop" (debut this week)
No. 4, "God's Plan" (No. 9; previously spent 11 weeks at No. 1)
No. 6, "In My Feelings" (debut this week)
No. 7, "I'm Upset" (No. 26; previously reached No. 15)
No. 8, "Emotionless" (debut this week)
No. 9, "Don't Matter to Me," featuring Michael Jackson (debut this week)
Drake breaks the prior record of five simultaneous Hot 100 top 10s by the Beatles. On April 4, 1964, at the height of early Beatlemania, the band dominated the entire top five, with, in order from No. 1 to No. 5, "Can't Buy Me Love," "Twist and Shout," "She Loves You," "I Want to Hold Your Hand" and "Please Please Me." The following week, the same five songs placed between Nos. 1 and 9.
Billboard
Image BBMAs twitter
Mentioned In This Post:
About the author