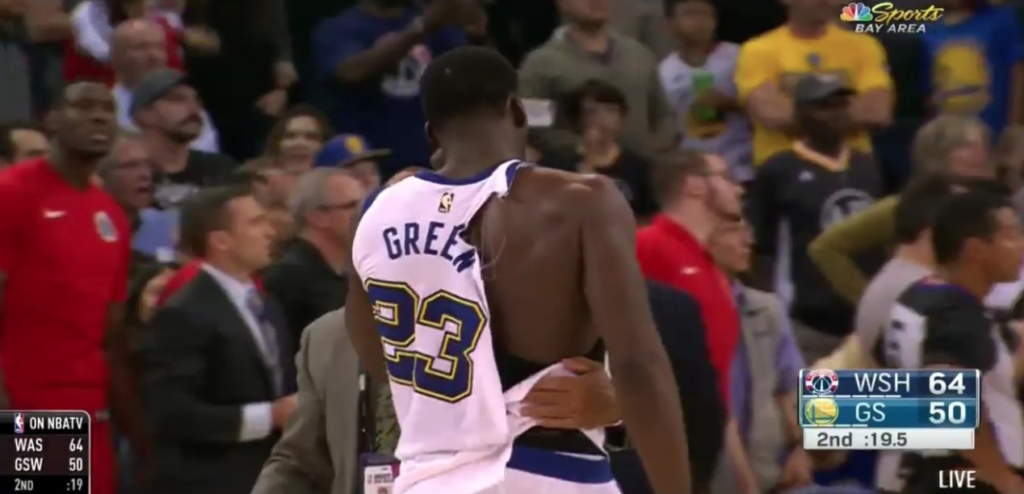 Wizards' Bradley Beal w/ blow to head of Warriors' Draymond Green pic.twitter.com/Mcd3JxcFxb

— Ben Golliver (@BenGolliver) October 28, 2017
These Teams Are In Playoff Fight Form Already
28 Oct, 2017
The Golden State Warriors' Draymond Green and the Washington Wizards' Bradley Beal were ejected late in the second quarter of Friday night's game after the two were involved in an altercation on the court.
The incident started when Beal drove toward the basket and had his shot blocked by Green with 23 seconds left in the half. The Wizards maintained possession, but as the two jostled for position in the paint, Beal smacked Green in the face from behind, and Green, in turn, grabbed Beal, and the two got locked up.
While wrapped around each other, they backpedaled near the fans in the front row underneath the Wizards' basket and eventually fell to the hardwood.
Members of both teams as well as officials, coaches and even a fan tried to break up the melee. Two Wizards players — Markieff Morris, who was inactive and in street clothes as he recovers from hernia surgery, and Carrick Felix — left the bench during the scuffle and are likely to receive a one-game suspension.
It wasn't immediately clear whether punches were thrown.
"I don't know what I'm supposed to do if someone hits you twice," Green told ESPN as he left the locker room at halftime. "Man, you're taught as a kid not to allow that. What was I supposed to do?"
Green emerged from the scuffle with his jersey ripped, and the two continued to jaw back and forth at each other from their respective benches.
Beal got into a verbal confrontation with fans as he was escorted off the court.
Asked whether he has a history with Beal, Green told ESPN, "There's history with me and the NBA. That's the only reason I can think of why I was ejected."
Green was waiting at the entrance of the locker room to greet his teammates after the Warriors' 120-117 comeback win.
Beal said he apologized to his teammates at halftime and after the game, and said he "needs to show better leadership and control."
"Things were said. Things were done throughout the whole game. But I'm not going to go into detail," he said, saying that he would "do that with the league tomorrow."
Wizards coach Scott Brooks was asked whether he thought Beal will face further discipline from the league.
"I don't know about Markieff, but I don't think so [regarding Beal]," he said. "I'm just coaching. The players play. Those aren't my decisions."
In addition, Warriors guard Klay Thompson told ESPN that Wizards forward Kelly Oubre Jr. apologized to him for what he described as a "graze to my face."
Oubre told Marc Spears of ESPN's The Undefeated that he ran to the skirmish aggressively but didn't throw punches and was trying to break things up.
"It's unfortunate that Draymond got tossed out for getting punched, but that's just how it is," Kevin Durant said. "We wished both of those guys would have stayed in the game. It would have been a better game."
ESPN
Image TheInfamousVal twitter
Mentioned In This Post:
About the author