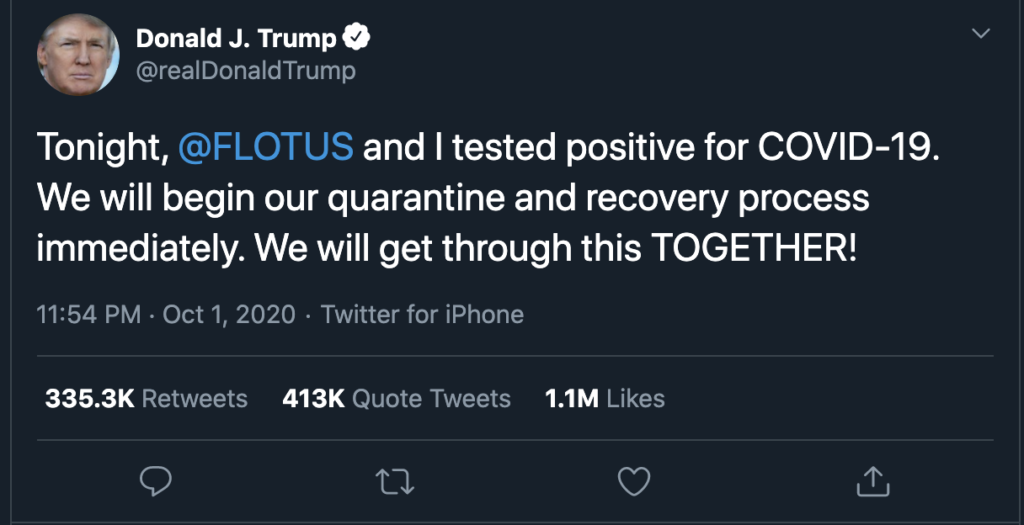 Trump Tests Positive for the 'China Virus'
02 Oct, 2020
President Donald Trump, who played down the threat of the coronavirus pandemic for months, said on Friday that he and his wife Melania had tested positive for COVID-19 and were going into quarantine, upending the race for the White House.
"We will begin our quarantine and recovery process immediately. We will get through this TOGETHER!" the president said in a tweet early on Friday morning.
Trump, 74, is at high risk with the deadly virus both because of his age and because he is considered overweight. He has remained in good health during his time in office but is not known to exercise regularly or to follow a healthy diet.
Trump understated the seriousness of the coronavirus outbreak in its early stages and has repeatedly predicted it would go away. On Thursday night he said the end of the pandemic was in sight. He rarely wears a mask and criticizes people, including Democratic presidential nominee Joe Biden, who do.
More than 200,000 people have died from COVID-19, the disease caused by the virus, in the United States alone. The elderly and those with pre-existing conditions have been especially hard hit.
Trump, a Republican, urged U.S. states to re-open shuttered economies even as the number of cases continued to soar and knocked Democratic governors for putting tough measures into place to bring the virus under control.
His health scare, which rattled financial markets, shifts the 2020 presidential campaign dramatically.
With only weeks before the Nov. 3 election, Trump will now be sidelined from doing in-person events after holding a slew of rallies with thousands of people at indoor and outdoor venues, against the advice of public health professionals.
Biden leads Trump in national polls.
Reuters
Image Trump Twitter
Mentioned In This Post:
About the author