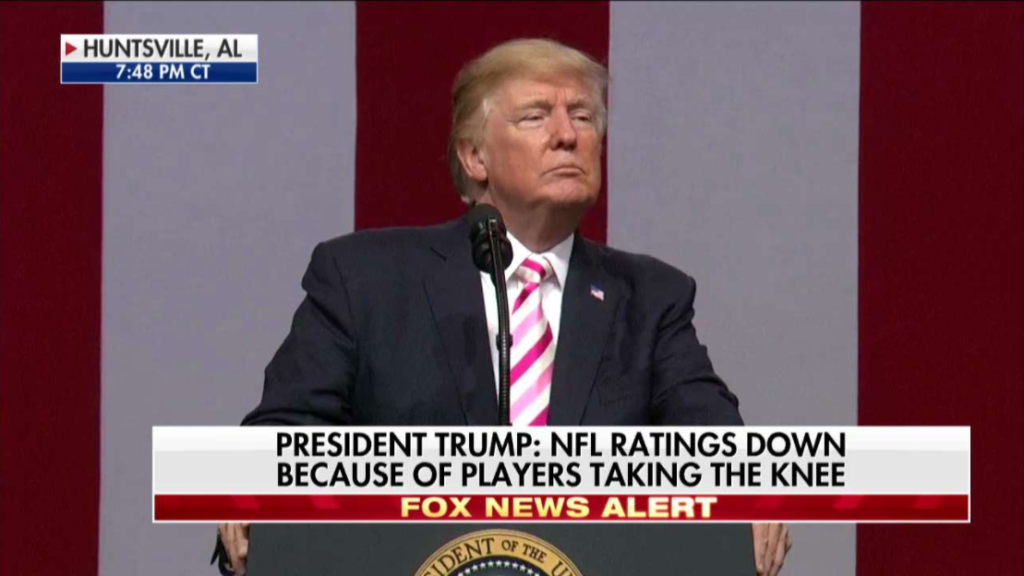 President Trump encourages NFL owners to fire players who kneel during national anthem: "Get that son of a b---- off the field right now" pic.twitter.com/P2A2egszoq

— NBC News (@NBCNews) September 23, 2017
Trump To NFL Owners "Get That Son Of A Bitch Off The Field"
23 Sep, 2017
The NFL commissioner, current and former players, and liberal commentators have joined in a growing chorus of criticism against President Donald Trump's call to fire players who kneel during the national anthem.
Trump's controversial remarks came during a political rally in Alabama on Friday night, sparking predictions that many more football players would kneel on Sunday in protest.
'Wouldn't you love to see one of these NFL owners…when somebody disrespects our flag, to say, "Get that son of a b***h off the field right now, out. He's fired. He's fired!"' Trump said at the rally.
League commissioner Roger Goodell clapped back in a statement on Saturday: 'Divisive comments like these demonstrate an unfortunate lack of respect for the NFL, our great game and all of our players, and a failure to understand the overwhelming force for good our clubs and players represent in our communities.'
The head of the NFL players' union, DeMaurice Smith, also spoke out, saying 'we no longer can afford to stick to sports' in a statement that seemed to presage further protests.
Kneeling during the national anthem began as a form of protest a year ago, when then injury-sidelined San Francisco 49s quarterback Colin Kaepernick began doing it in protest over the treatment of blacks and other people of color.
Following Trumps's remarks Friday, some NFL players were quick to join in responding to them.
'Does anyone tell trump to stick to politics, like they tell us to stick to sports?' wrote Detroit Lions tight end Eric Ebron.
George Iloka, a safety for the Cinncinnati Bengals, had this to say: 'I can't take anything our Celebrity in Chief says seriously. He's a real life clown/troll.'
'When will people learn that fear won't make someone sit down. It quite possibly will make more stand up for what they believe in,' remarked Kansas City Chiefs wide receiver Chris Conley.
Retired players also didn't shy from joining in the debate, including former Green Bay Packers running back Ryan Grant who said: 'I'm actually glad Trump said what he did. Publicly with an audience . Once again it empowers the players to live their truth. Show colors.'
ESPN SportsCenter host Jemele Hill, who recently courted controversy by calling Trump a 'white supremacist', predicted that the president's remarks could provoke widespread kneeling protests.
'Just so we're clear: the president's comments will only incite more player protests, not quell them,' Hill said.
The earliest test of her theory will come Sunday morning, with the Baltimore Ravens playing the Jacksonville Jaguars in London's Wembley Stadium, set to air at 9.30am Eastern Time.
Trump counts many NFL team owners among his friends, and received a total of $7.25million in donations toward his inauguration festivities from eight owners.
New York Jets owner Woody Johnson, who donated $1million to the inauguration, was even appointed Trump's ambassador to the UK.
Daily Mail
Image thehill twitter
Mentioned In This Post:
About the author