U.S. Dominates in 7th Consecutive Presidents Cup Win
02 Oct, 2017
(JERSEY CITY) The United States won their seventh consecutive Presidents Cup over the International team on Sunday even as the final margin of eight points disguised the one-sided nature of the event.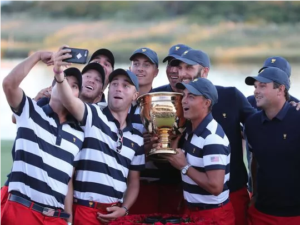 After sleeping on leads of 3½-1½, 8-2 and 14½-3½, the heavily favored Americans needed just one point from the 12 singles matches on the final day at sun-drenched Liberty National Golf Club to punctuate the rout.
That winning point was delivered courtesy of Daniel Berger, who defeated Si Woo Kim, 2 and 1. Nine matches were ongoing when Berger took a swig of champagne by the 17th green and only the final score had to be determined.
Fittingly Phil Mickelson, the only player to participate in every Presidents Cup, brought the proceedings to an end. His 2-and-1 victory against Adam Hadwin made the final score 19-11.
"We planned for this for months and it's just a great feeling," said Berger, who was 2-1-0 in his Presidents Cup debut. "I'm speechless right now. You dream of moments like this, to be able to clinch the winning point for your American side, but it was a team effort. I got two points for us, but there's so many guys that played so well this week. You know, if it wasn't me, it was going to be someone else, so I'm just happy to be a part of this team."
USAToday
PHOTO:USAToday
Mentioned In This Post:
About the author