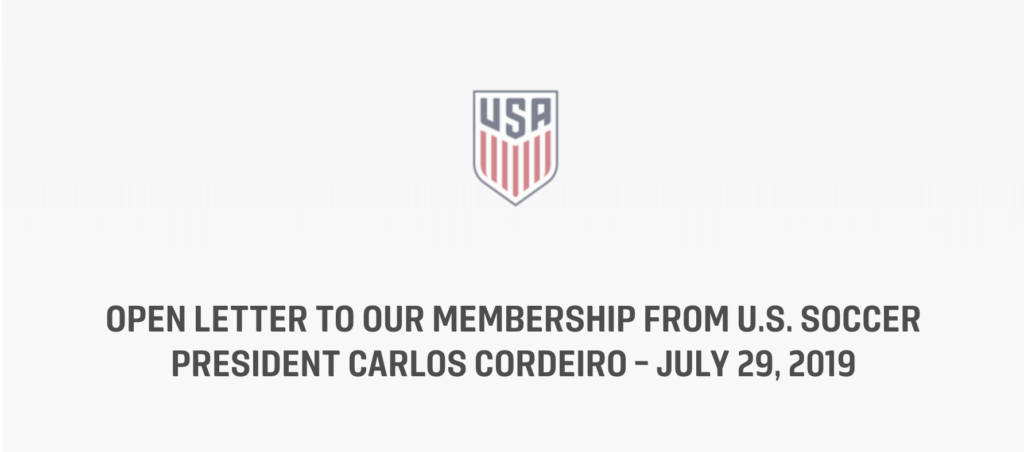 USA Soccer Claims Women Get Paid More Than The Men
30 Jul, 2019
Dear Friends, Colleagues and Supporters of U.S. Soccer,
Like you, all of us at U.S. Soccer continue to celebrate our extraordinary U.S. Women's National Team—the 2019 Women's World Cup champions! The 23 players of our USWNT—earning their second consecutive title and an unprecedented fourth star—are an inspiration to us all and truly some of the greatest athletes that our nation has ever produced.
As you know, the women's victory on the field also came several months after the team filed a lawsuit concerning the pay they receive from the Federation. When the lawsuit was filed, we made a deliberate decision—instead of debating the facts in the media in the lead-up to the World Cup, we would focus on providing the team with everything they needed to win in France. Indeed, we spared no expense in our support of the team—support they deserve—including chartered flights, world-class training facilities, a tireless coaching and support staff and unprecedented promotion and marketing.
I wrote in my open letter in March after the lawsuit was filed that U.S. Soccer believes that all female athletes deserve fair and equitable pay, and we strive to meet this core value at all times. Moreover, it should be a basic principle everywhere in our country—equal work deserves equal pay. In the case of our men's and women's national teams, they have different pay structures, not because of gender, but because each team chose to negotiate a different compensation package with U.S. Soccer. Separately, FIFA competitions for men and women include a different number of games each year, at different times, in different locations, against different opponents with different FIFA rankings and different tournaments with different qualifying criteria and different prize money. Yet even with these many differences, U.S. Soccer strives to ensure that all our national team players, women and men, are paid fairly and equitably.
The team's lawsuit has also contributed to an important and necessary national discussion about equality. This is a conversation that U.S. Soccer welcomes. Even as we're proud of our record as a champion for women's soccer, we always strive to do even better. If we find areas where we can improve, we'll work to do so in close partnership with our Women's National Team.
During this national conversation, the many differences between our women's and men's pay structures and competitions have made direct comparisons between their pay extremely difficult. As a result, there's been confusion about what our women's and men's players are actually paid by U.S. Soccer.
Just as our WNT players have shared their perspective, I strongly believe that you—as U.S. Soccer members, stakeholders, sponsors and partners—deserve to hear ours. Now that the Women's World Cup is behind us, a common understanding of key facts will also help advance our shared work to grow women's soccer in America as well as the larger national discussion about equality.
At my request, U.S. Soccer staff conducted an extensive analysis of the past 10 years of U.S. Soccer's financials. Based on this analysis, we've produced the following fact sheet, which has been reviewed by an independent accounting firm. We are, of course, sharing this letter and fact sheet with players on our Women's National Team. In the same spirit of partnership and transparency, I also want to share this information with you.
As you'll see—separate and apart from any prize money awarded by FIFA—U.S. Soccer has, over the past decade, paid our Women's National Team more than our Men's National Team in salaries and game bonuses, and we continue to make unprecedented investments in our women's program.
Still, like any organization, U.S. Soccer recognizes that we can continue to improve, in partnership with our women's players. In the weeks ahead, we'll focus on preparing for mediation and resolving this matter in the best interests of the WNT and U.S. Soccer. I want you to know that U.S. Soccer is committed to doing right by our players, and I've been encouraged by the public comments from players expressing their desire for a cooperative approach. I remain optimistic that we can find common ground.
Together, I believe we can get this done.
More broadly, we look forward to working with the team to bring soccer to more people in more places than ever before. After all, our Federation is a 501(c)(3) non-profit with the mission of making soccer the preeminent sport in the United States by developing players, coaches and referees at all levels, including youth. As such, we have a responsibility to use our resources wisely to serve all our members and to plan prudently for the future with long-term investments that help grow soccer for many years to come.
Ultimately, the best way to close any gaps between the women's and men's game is to do everything we can—as a federation and as fans—to grow women's soccer, here in the United States and globally. We can cheer for our WNT during their Victory Tour, which starts August 3 in Pasadena, California. We can attend a NWSL match or watch one at home. Here in the U.S. and around the world, the more tickets to women's matches we buy and the more games we watch on TV, the more revenue we can generate for the women's game, including FIFA prize money. That, we believe, is the best and most sustainable path to true and lasting equality.
We look forward to the day when Americans choose to spend their time and money equally between women's and men's soccer. At U.S. Soccer—in partnership with you—we'll never stop doing our part to make that vision a reality.

Sincerely,
Carlos
USASoccer.com
Mentioned In This Post:
About the author