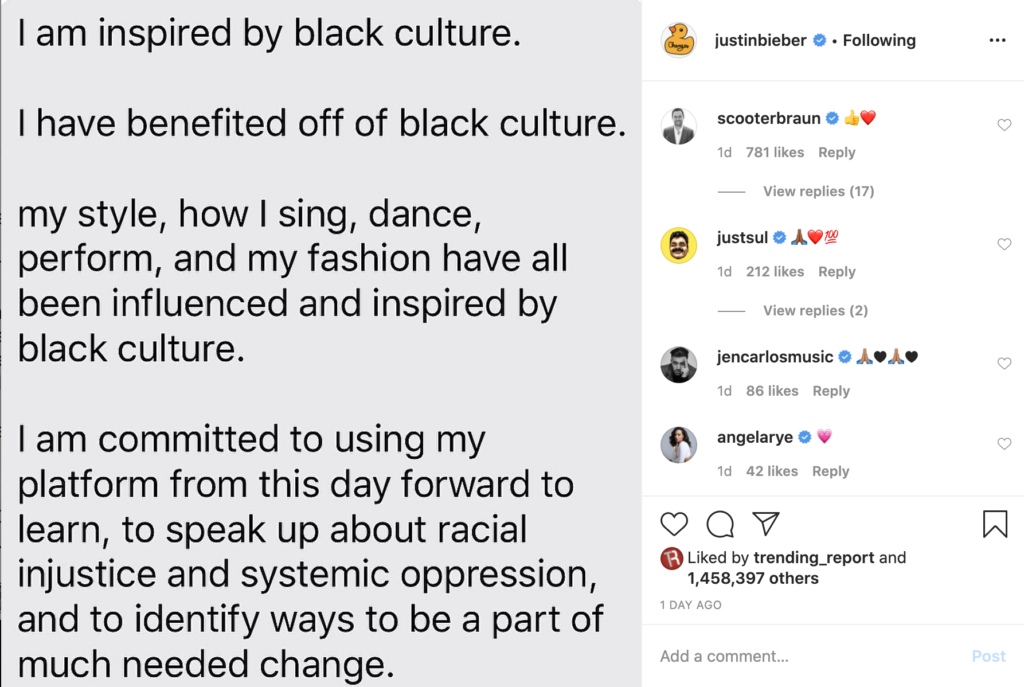 We Need All The Allies We Can Get
07 Jun, 2020
Justin Bieber has been using Instagram to show his solidarity with the Black Lives Matter movement amid nation-wide protests.
And in a post shared on Saturday, the 26-year-old promised to continue using his platform to 'speak up' about racial injustice, while also openly acknowledging his privilege as a white male.  
'My style, how I sing, dance, perform, and my fashion have all been influenced and inspired by black culture.' 
Justin has notoriously received criticism in the past for mirroring the sound and style of black artists, as well as controversially sporting dreadlocks back in 2016.
Justin's biggest inspiration and mentor – and one of the people involved in launching his career – is fellow R&B star Usher, who happens to be African-American.
He continued: 'I am committed to using my platform from this day forward to learn, to speak up about racial injustice and systemic oppression, and to identify ways to be a part of much needed change.'
In his most recent attempt at online activism, Bieber paid homage to the late Breonna Taylor, who lost her life at the hands of police in Louisville, KY back in March.
For his post, the Sorry singer shared a photo of Taylor in her EMT uniform and supplied his following with ways they could help bring justice the would-be 27-year-old's way.
Aside from his well intentioned Breonna tribute, Justin has also bombarded his follower's timelines with various Black Lives Matter memes and quotes in an attempt to inspire change and conversations in his comment section. 
Bieber's outpouring of support for the black community comes after the unjust killing of 46-year-old George Floyd in Minneapolis, Minnesota on May 25.
Daily Mail
Image Justin Beiber Instagram
Mentioned In This Post:
About the author