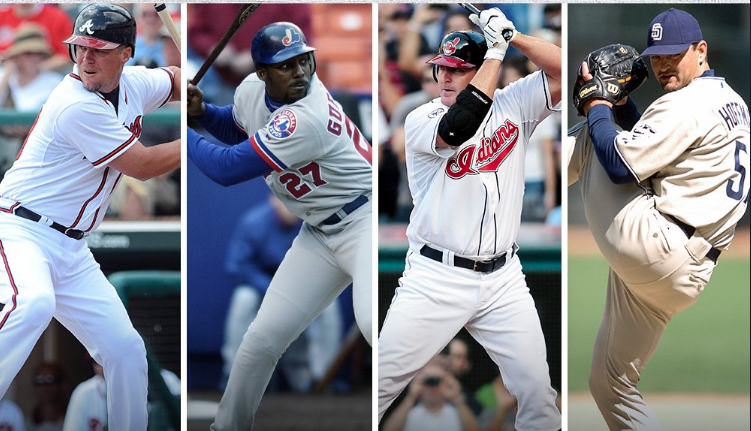 Welcome To Cooperstown Gentlemen
24 Jan, 2018
For the second time in four years but just the fifth time in a voting process that dates back to 1936, the Baseball Writers' Association of America is welcoming four players into Cooperstown's hallowed Hall all at once.
Chipper Jones, Vladimir Guerrero, Jim Thome and Trevor Hoffman compose the BBWAA's 2018 National Baseball Hall of Fame class, which was announced on Wednesday night on MLB Network and MLB.com. Jones and Thome were inducted in their first year of eligibility, marking the third time this decade that a BBWAA class includes multiple first-ballot Hall of Famers.
As always, players had to be included on 75 percent of the ballots submitted by voting members of the BBWAA, who had a maximum of 10 slots to fill. Jones and Thome became just the 53rd and 54th players in history to be voted in on their first ballot. For Guerrero and Hoffman, the 2018 result was a natural conclusion after both men finished tantalizingly close to entry in '17. Last year, Hoffman fell five votes shy of induction, while Guerrero fell 15 short.
Though this year's BBWAA class is equal in size to that of 2015 (Randy Johnson, Pedro Martinez, John Smoltz and Craig Biggio), it marks just the second time since 1955 (Joe DiMaggio, Gabby Hartnett, Ted Lyons, Dazzy Vance) that the writers have chosen a group of four.
The other years with a class at least this large were 1947 (Lefty Grove, Carl Hubbell, Mickey Cochrane, Frankie Frisch) and the inaugural, immortal class of '36, which had five members (Ty Cobb, Honus Wagner, Babe Ruth, Christy Mathewson, Walter Johnson).
When combined with the Modern Baseball Era Committee's selection of Jack Morris and Alan Trammell in December, the total 2018 group of six ties '14 (Frank Thomas, Greg Maddux, Tom Glavine, Joe Torre, Tony La Russa and Bobby Cox) for the largest this decade.
It was nearly larger. A recent surge in support for Edgar Martinez's candidacy led to the former Mariners designated hitter appearing on 70.4 percent of ballots — just 20 votes shy of induction — in his ninth and penultimate year of eligibility. Martinez will have one last chance at the BBWAA honor in 2019, when he'll be joined on the ballot by newcomer and veritable lock Mariano Rivera, among others.
In the wake of a 2013 vote that resulted in zero writer-elected Hall of Famers, the BBWAA has now welcomed 16 inductees over the past five years. That is the most in any five-year stretch in the history of the writer voting.
Now, Martinez finds himself in "next in line" territory, hoping the dramatic uptick from 2014, when he had a low watermark of 25.2 percent in his fifth year on the ballot, can continue in one final try. Right-hander Mike Mussina is also trending in the right direction, appearing on 63.5 percent of ballots in his fifth year of eligibility.
In their sixth year of eligibility, Roger Clemens (57.3), Barry Bonds (56.4) and Curt Schilling (51.2) all appeared on more than half of the 422 ballots submitted. For all three men, that was a slight increase over their 2017 totals.
As has been the case in every year of the BBWAA voting, there were no unanimous selections in 2018. But here's more on this year's fantastic foursome.
The Braves got it right with the No. 1 overall pick in the 1990 Draft. Jones becomes just the second No. 1 overall selection to reach the Hall of Fame, joining 2016 inductee Ken Griffey Jr.
Jones' entry follows a trend of the election of iconic members of Braves clubs that won a record 14 consecutive division titles from 1991-2005. Jones follows in the recent footsteps of first-ballot BBWAA inductees Greg Maddux, Tom Glavine and Smoltz, as well as manager Bobby Cox and team architect John Schuerholz, who were selected via small committee voting.
According to the research of longtime baseball scribe Jayson Stark, the Braves are the first team in history with four first-ballot teammates who spent 10 or more years with the same club.
"For us to have that little fraternity in a little piece of heaven up there in Cooperstown, New York, it's something that we can and should be very proud of," said Jones, "because we did an awful lot of winning during the '90s and early 2000s in Atlanta."
Having amassed a 19-year career in which he was a model of consistency and success, Jones was such a clear-cut Hall of Fame candidate that he wound up tied with Maddux for the 10th-highest percentage in BBWAA voting history.
"It blows my mind that 97 percent of [the writers] voted for me," Jones said.
Jones won a World Series as a rookie in 1995, won the National League MVP Award in 1999, was selected to eight NL All-Star squads, won a batting title (.364) at age 36, finished with 468 home runs and completed nine seasons of 100 RBIs or more.
Guerrero will either be the first player to wear an Angels cap on his plaque or, perhaps, the last to wear a Montreal Expos cap, depending on his preference. Guerrero said he will announce that decision on Thursday in New York at the Hall of Fame news conference, which will air live on MLB Network and MLB.com starting at 3 p.m. ET. His 16-year career included eight seasons in Montreal, where he emerged as an All-Star, and six in Anaheim, where he won the 2004 American League MVP Award.
One of the most purely entertaining players of his era, with a cannon for an arm and a bat that could reach just about any pitch, Guerrero hit .300 or better 13 times, drove in 100 or more runs 10 times and hit 30 or more homers eight times. He never struck out more than 95 times in a season, and only Musial, Williams, Gehrig and Mel Ott struck out less frequently while hitting as many career home runs as Guerrero did.
Becoming one of only nine members of the 600 home run club is impressive on its own. But Thome possessed the rare combination of power and patience. In addition to posting the fifth-best at-bats-per-home run mark in history (13.76), Thome also finished with a career on-base percentage (.402) one point higher than that of Hall of Fame leadoff man Rickey Henderson.
A country-strong slugger plucked out of Illinois Central College in the 13th round of the 1989 Draft, Thome opened his stance under the tutelage of Charlie Manuel, began pointing his bat a la Roy Hobbs in "The Natural" and joined Bonds, Ott, Ruth and Williams as the only players in history with at least 500 homers, 1,500 runs scored, 1,600 RBIs and 1,700 walks. Being roundly regarded as one of the nicest men in baseball certainly didn't hurt his cause, either.
Thome has already hand-delivered the baseballs from his 500th and 600th home runs to the Hall of Fame. Now his plaque will join those mementos.
"I think the Hall of Fame is just so magical if you're a baseball fan and you truly understand it and want to understand it," Thome said. "I think that was the driving force to take the 500th and 600th baseballs there — because it's where it should have been, it's where it should be. You've got all these great artifacts. It's the greatest place there is."
With Jones and Thome aboard, both third basemen from the 1995 World Series are accounted for in this class. Thome represents the Cleveland Indians teams that won six division titles and two AL pennants in a seven-year stretch from 1995-2001.
MLB.com
Image SINow twitter
Mentioned In This Post:
About the author