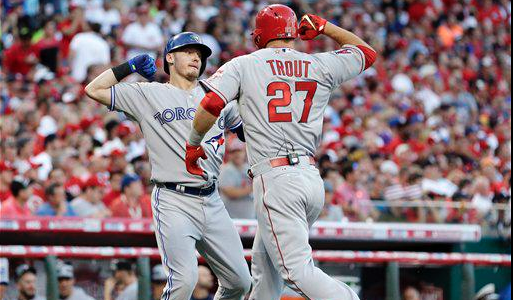 Welcome to the Mike Trout Show
15 Jul, 2015
Mike Trout sparked the American League to a 6-3 victory over the National League in the Major League Baseball All-Star Game on Tuesday in Cincinnati and made Mid-Summer Classic history.
Trout led off the game with a home run and helped produce a tie-breaking run in the third by beating out a double play bid, then raced home from second on a single to left as the American League claimed home field advantage for the World Series.
The Los Angeles Angels outfielder was named Most Valuable Player, becoming the first back-to-back winner of the honor.
"That's why Mike Trout is so special," said AL skipper Ned Yost of the Kansas City Royals. "He can do everything. He can run, he can hit for power, he can hit for average, he's a tremendous defender in center field."
Prince Fielder of the Rangers drove in two, Lorenzo Cain of the Royals was 2-for-3 with an RBI and Brian Dozier homered in the eighth to pad the lead as the American League won the showdown for the third successive year.
David Price of the Detroit Tigers was credited with the win, and Los Angeles Dodgers Clayton Kershaw took the loss.
Trout set the tone when he stroked an outside pitch from Dodgers' right-hander Zack Greinke over the right-field fence for the first lead-off homer in an All-Star Game since Bo Jackson in 1989 in San Francisco.
The National League tied it 1-1 when the Cardinals' Jhonny Peralta blooped a single to right to score the Diamondbacks' Paul Goldschmidt.
Two runs in the fifth off three-time Cy Young winner Kershaw put the AL ahead for good.
Kansas City's Alcides Escobar led off with a single under the glove of Reds third baseman Todd Frazier. Trout hit into a force out at second but beat the throw and avoided a double play.
After Albert Pujols was walked, Fielder lined a single to left that scored Trout and Cain smashed a double down the third base line to drive in Pujols for a 3-1 lead.
The National League made it 3-2 when Pittsburgh's Andrew McCutchen belted a long homer to left off Chris Archer, but the AL responded with two runs in the seventh on an RBI double by the Orioles' Manny Machado and a sacrifice fly by Fielder to put it out of reach.
Reuters
Image AP Sports Twitter
Mentioned In This Post:
About the author