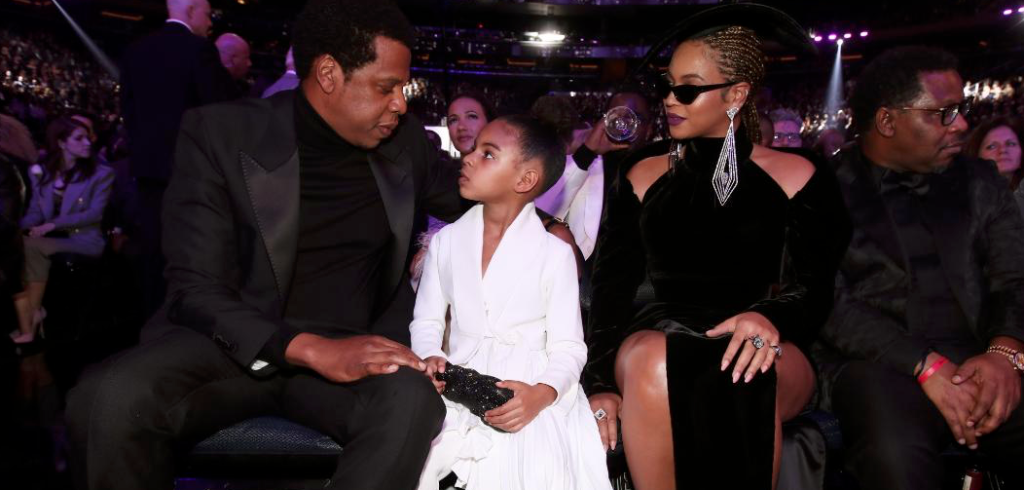 When Your Parents are Jay Z And Beyonce, You Bid on Art
18 Mar, 2018
On Saturday night, Beyoncé and Jay-Z made a rare public appearance together at the second annual Wearable Art Gala in Los Angeles. The extravagant bash, hosted by Beyoncé's mother Tina Knowles Lawson and Richard Lawson, benefits the WACO (Where Art Can Occur) Theater Center, providing teen mentorship programs and a place where individuals are encouraged to use their self-expression through theater and art.
The evening was also a family affair. Beyoncé and Jay-Z brought their daughter Blue Ivy Carter to the event, where Beyoncé and Jay-Z's mom Gloria Carter were being honored for their humanitarian work. Solange Knowles and her step sister, Queen Sugar actress Bianca Lawson, also came out to support the family. But despite the collective star power in the extended Knowles-Carter clan, six-year-old Blue who was the clear scene-stealer of the evening.
Beyoncé fan accounts have captured social media video of the mother and daughter's matching looks:
During the gala's live auction, led by Star Jones, Blue raised her paddle and bid $17,000 on an acrylic painting of a young Sidney Poitier. When the price went up, she made another bid at $19,000, but Jay-Z jokingly tried to snatch the paddle away from his daughter's hand to prevent higher bids. Tyler Perry ended up taking home the portrait for $20,000. Although she lost, Blue wasted no time and bid on the next item, a 36" x 36" piece of art composed of deconstructed law books from Indiana and medical books from California, created by artist Samuel Levi Jones. Blue made the winning bid for $10,000. Beyoncé joined in on the action and made a winning bid at $17,000 on a set of Lorraine Schwartz panther earrings that she had previously worn to an event.
Following the auction, former First Lady Michelle Obama made an appearance via a taped message to recognize Beyoncé's humanitarian work. Obama called Beyoncé "my sister" and raved about her inspiring work in bringing clean water across the globe to helping people in her hometown of Houston recover from the devastating hurricane last August.
"At a time where so many people are feeling afraid and looking inward, honey you give us the courage to reach out across every divide — race, class, gender, geography," said Obama. "It has been a joy to work with you on issues we care about and witness your outstanding work first hand. Because millions of girls around the world love you and admire you — including my daughters — it means even more that they see you standing up for others. I love you. I am inspired by you. I'm so honored and proud of everything that you have achieved and everything that you have contributed to our country and our world."
An emotional Beyoncé took the stage and fought back tears when Hannah Brammer, a 17-year-old fan born with brittle bones, surprised the superstar by greeting her at the podium. Beyoncé sends birthday wishes to Brammer every year and has met with her after concerts.
"I feel very overwhelmed and I feel really full and really blessed and fortunate," said Beyoncé. "There's something that feels very off about receiving this award from my mother. She raised me to believe that giving was not an option, but a privilege and a responsibility. I never thought people should receive awards like this because in my opinion, the giving is the reward and that's enough. I try to keep my charitable work quiet because I feel like these things should come from the goodness of your heart and nothing orchestrated as a campaign. And if I'm honored, I keep it quiet because I feel like I could be doing more."
The signer continued her speech and dedicated the award to her mom, calling her "the most incredible woman" who showed her "how to lead with her heart."
"I think the real reason I feel weird to receive this award from my mother is because I feel like I should be giving her an award tonight. There's no one that I respect and admire more, and there's no greater teacher," she said. "My mother taught me through example. She taught me that if you lead with empathy, a giving heart becomes second nature. I grew up watching her heal, healing woman with conversations, love and makeovers! She also taught me that there's something more valuable than any dollar amount and that's time. Time to put someone else first. Time to change the trajectory of a child or a village or a community, and time to tell another person that you matter to me. You matter to the world and that your contributions are important. It takes time to build and nourish. It takes time to care for each other."
The Wearable Art Gala also honored Jay-Z's mom Gloria Carter with the Everyday People Award. Carter co-founded the Shawn Carter Foundation with the mission to help people facing socio-economic hardships further their education and attend college by providing scholarships and mentoring. A proud Jay-Z took to the stage and paid tribute to his "ma" with a crowd-pleasing story about how he achieved huge success in his life.
"She raised four kids and she did the best job with me," Jay-Z joked to crowd. "My mother is a beautiful human being. She's a progressive woman, who was always strong. She's someone who is so strong that she told me, 'You can do anything in life.' I believed it so much that I thought she made it up herself. I didn't realize it was a cliché, but I worked really hard because of her saying. I'm very happy and proud of you."
Carter thanked Jay-Z and the rest of her family for their love and unconditional support. She used most of her acceptance speech to urge the audience to invest in their communities and to support others — two important values she instilled in her children.
"Even though we are each uniquely individuals, we need each other to be successful. Not one of us has become successful with the help of someone else. By being a part of this event, you now become a part of changing the life of a young person — by helping them more forward," she said. "I encourage each and every one of you to continue to help. Remember, you're greatness isn't suppose to stay with just you, it's suppose to be shared. It will make a positive difference in everybody's life."
Jay-Z also gave a shout out to another influential person, his 92-year-old grandmother Hattie White, who was sitting in the audience.
"It's an honor to have her," he said. "Today, we sat out in the sun and we have three generations sitting there, and we just spoke about life and it's like the best thing I've ever had other than being married [he points to Beyoncé] and this little gem right here [he gives a nod to Blue Ivy and smiles].
Vanity Fair
Image _SFBCM twitter
Mentioned In This Post:
About the author